True graphene is a one-atom thick layer of carbon. It's incredibly conductive, transparent, and of course thin. It's one of those materials that, if it were only cheaper, would be used in everything from batteries to water filtration. Researchers from CSIRO in Australia have found a novel, dirt-cheap, and simple way to make graphene, and it's hacker-friendly, for certain values of hacker.
The method is to take a sheet of polycrystalline nickel foil, spread a thin layer of soybean oil on it, and heat it up to 800° C for three minutes. It's cooled off, slid off the foil, and it's done. While 800° is a lot hotter than a standard toaster oven, their setup isn't really all that much different. Notably lacking are things like esoteric gasses, partial vacuums, and the like. The nickel foil has some kind of catalytic role in the process — you should read the original if you're more of a chemist than we are.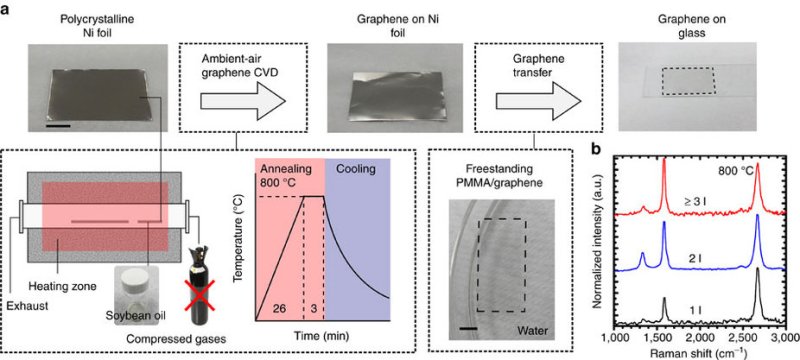 The resulting graphene isn't perfect. According to their spectroscopic peeking, they are getting sheets with one, two, or three atomic layers. Lower temperatures result in sheets that aren't completely fused, while high temperatures result in even thicker sheets. They also report a sweet spot in the cooling rate. In short, you'll have to experiment around. But if you don't have soybean oil on hand, butter will do the trick as well.
We've already seen a simple way to make graphene with a DVD player, but the precursor is graphite oxide, which we don't have in our kitchen. (Although we do have a spare DVD burner…) If you've already made some graphene, and you're wondering what to do with it, try Silly Putty.
Thanks [RandyKC] for the tip!