When a Hackaday article proclaims that its subject is a book you should read, you might imagine that we would be talking of a seminal text known only by its authors' names. Horowitz and Hill, perhaps, or maybe Kernigan and Ritchie. The kind of book from which you learn your craft, and to which you continuously return to as a work of reference. Those books that you don't sell on at the end of your university career.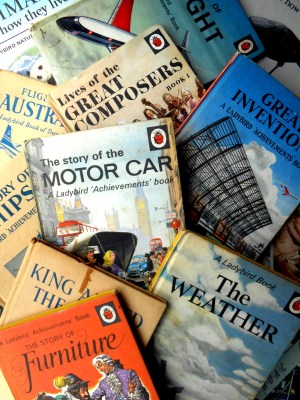 So you might find it a little unexpected then that our subject here is a children's book. Making A Transistor Radio, by [George Dobbs, G3RJV] is one of the huge series of books published in the UK under the Ladybird imprint that were a staple of British childhoods for a large part of the twentieth century. These slim volumes in a distinctive 7″ by 4.5″ (180 x 115 mm) hard cover format were published on a huge range of subjects, and contained well written and informative text paired with illustrations that often came from the foremost artists of the day. This one was published at the start of the 1970s when Ladybird books were in their heyday, and has the simple objective of taking the reader through the construction of a simple three transistor radio. It's a book you must read not because it is a seminal work in the vein of Horrowitz and Hill, but because it is the book that will have provided the first introduction to electronics for many people whose path took them from this humble start into taking the subject up as a career. Including me as it happens, I received my copy in about 1979, and never looked back.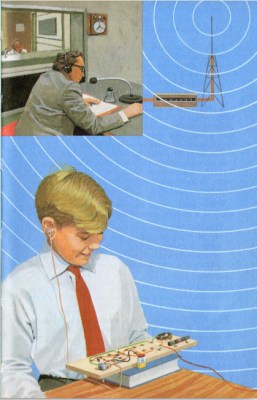 When you open the book, the first thing you see sets the tone, for there is a guide to soldering on the inside of the front cover. This is an optional construction method, but it is presented in a style that does not talk down to the reader. You are here to learn about electronics, not to be reminded that you are a child.
Past the title page, and the you are introduced to radio shown a block diagram of a receiver, and then simple circuitry with a torch (flashlight) battery and bulb as a first example. You are then launched into your first radio circuitry, first with a tuned circuit and then with the addition of a germanium point-contact diode and earpiece, a simple crystal set. One of the first illustrations shows a young boy wearing a shirt and tie, typical of the slightly idealised world of children's' books of the era. This was the 1970s, just how many boys would have been dressed like that, really!
Despite the introduction to soldering inside the cover, the signature construction method used in the book is the use of woodscrews and screwcups on a wooden baseboard. The reader is introduced to these, and the tools the might have to master, before being shown the measurements for the board. With this complete, we are ready for our first construction, the crystal set with its coil wound on a ferrite rod.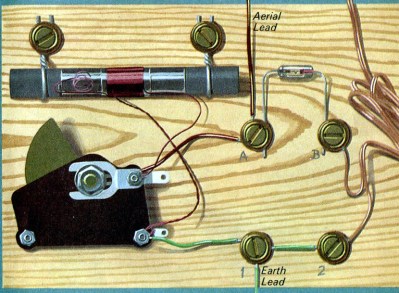 It is easy to believe these days that children are shielded from anything that might be remotely practical, for fear that they might hurt themselves. Fortunately the ethos of this book has its roots in a far more can-do era, and an action such as fracturing a ferrite rod to create the 3″ (75mm) length required is taken in its stride. Again, the reader is not talked down to, being introduced to all the useful things you need to know if you are to maintain an interest in radio. Few other children's books deal with the topic of standard wire gauges.
Once constructed, the crystal set and its associated aerial (antenna) and earth would have given the 1970s child an instant result, as over most of the more populous parts of the British mainland they would have easily received the strongest AM signal, BBC Radio 2. A crystal set is hardly selective, so it's quite likely that no matter where it was tuned it would still pick up Radio 2. Still, the sense of achievement at having pulled a signal out of thin air would have been very strong. As an exercise the book takes a brief diversion into home-made radios as created by WW2 prisoners of war with a detector made from a piece of coke.
The book then adds amplification to the crystal set in a series of stages which culminate in driving a small loudspeaker. This section is more than simply the stages of amplifier construction though, because while it takes the reader through those steps it is also a very basic primer on electronic components and transistor circuits. The amplifier is a very old-fashioned, single-ended design with an output transformer. The transistors in question are the now-archaic germanium PNP devices that had probably already been superseded by the early 1970s, but the principles of biasing and transistor circuitry are universal to all bipolar circuits. And the introduction to resistors with the resistor colour code  is something that stays with a young future electronic engineer throughout their career.
Finally, the reader is shown a regenerative front end for their radio that replaces the crystal set. The operation of regeneration is explained, new components are introduced, and the construction is laid out. There follows a guide to using the radio, and finally a page on finishing its case with a mounting for both speaker and battery. The final receiver might not have been as good as its commercial superhetrodyne equivalent, but it would have provided acceptable performance to receive most strong AM stations.
This book has only 50 pages, and of those, half are composed of pictures and diagrams. Within this meagre canvas the author manages to not only guide the reader through the construction of a working radio receiver, but to also lay the seeds of an understanding of solid state electronics. Topics such as the resistor colour code or transistor biasing are part of the early syllabus of a first-year electronic engineering course, yet here we find them presented in a children's book in a format that a younger reader would understand. You are reading this review because my career as an electronic engineer has its roots in this book, it would be interesting to know how many other readers will tell the same story.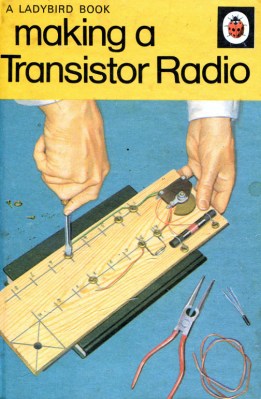 Making A Transistor Radio was published in 1972, and appeared as a second edition in Ladybird's Learnabout series at the end of the decade. Some of the devices it uses may well have been out of production by the end of its print run; even in 1979 it proved difficult to source an OC44 and we had to use an AF117 instead. The book is now long out of print, so your best bet if you want to read it yourself is to do a Google search on its title for a PDF, or to scour second-hand booksellers. There is a copy on the Internet Archive, though it has some missing pages. The book's author, [George Dobbs, G3RJV], continues to be a prolific writer and source of radio projects. As founder of the G-QRP Club, he has been very active in furthering the cause of low-power amateur radio.
It would be interesting to see how easily a contemporary version of the book could be created, with silicon transistors, Schottky signal diodes, and a polyvaricon to replace the Jackson Dilecon variable capacitor.  Or perhaps an AM radio is no longer enough to capture the imagination of a child. Ladybird stopped producing children's books in this format in 1999, though they have recently re-emerged in a humorous form aimed at adults.
If you were introduced to electronics by this book, let us know in the comments. Do you still have your radio? If there are any other similar books that made the same mark for non-Brits, we'd love to hear about them.