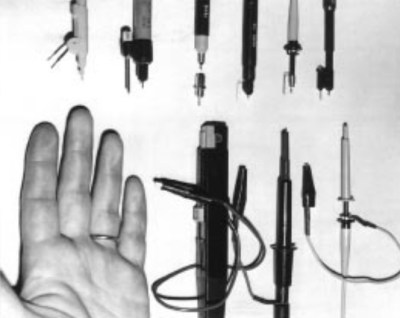 It's not often that we are shown an entirely new class of test equipment here at Hackaday, so it was with some surprise that we recently received the new O-scope Mayer offering. If your most simple piece of test equipment is your own finger, able to measure temperature, detect voltage, and inject a 50 or 60 Hz sine wave, then what they have done is produce a synthetic analogue with a calibrated reading. The idea is that where previously you could only say "Too hot!", or "High voltage!", you should now be able to use their calibrated probe to gain an accurate reading.
The O-scope Mayer D4/WG5 Calibrated Fleshy Test Probe is a roughly 4″ (100mm) long cylinder of their InteliMeat™ synthetic finger analogue terminated with a calibrated matching unit and a BNC socket. In the box aside from the instruction leaflet is a BNC lead through which you can connect it to your oscilloscope.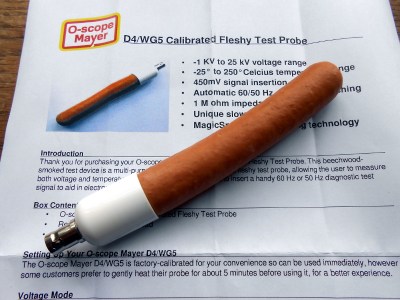 Holding the probe, it becomes obvious that some thought has been put in to how it should feel to the operator. The weight is about right, it's slightly flexible but does not feel too heavy, and the outer surface has a smooth skin-like texture. The business end is about the same size as the end of your finger, and is roughly hemispherical rather than terminating in a metal point like other probes. The folks at O-scope Mayer tell us that this is to provide as close as possible an in-use experience to a real finger, and though it felt a little uncomfortable for slightly squeamish Hackaday writers at first, we soon got used to it in practice.
So having unboxed it and examined it, we set about hooking it up to the trusty Rigol 1054z 'scope. The BNC cable is bi-directional, ingeniously if you wire it one way the probe reads voltage while wiring it the other way makes it read temperature. Using the probe without the BNC cable enables the 50 or 60 Hz injection mode. We found this to be a surprisingly convenient system once we'd got used to it, as it neatly sidesteps the need for any fiddly switches.
The spec says that it has a voltage range of -1 KV to 25 KV, which should be adequate for most fleshy test probe use cases. It has a resolution of 1 mV per volt, giving a maximum output of 25 V for the 25 KV maximum input voltage. On low voltage circuits as you might expect it's not quite as useful as a regular probe, not surprising given its 1000x attenuation. The 'scope trace is noisy at these voltages, but it does maintain an accurate voltage reading. For a higher voltage we tried it on a PC switch mode power supply on our bench, and the 350V reading from the "hot" side agreed perfectly with the reading we achieved with the conventional probe. Sadly our bench doesn't have any significantly high voltage sources so we were unable to test the probe at more than can easily be generated from the usual UK mains supply.
In temperature mode with the BNC cable reversed, the probe delivers 10mV per degree Celcius from -25° to +250°. We were able to test this in a multitude of environments, from a home deep freeze through a glass of ice water, body heat, and a pan of boiling water, to the toasty warm heat sink of our PC power supply with its cooling fan disconnected. At each point its reading agreed with our thermometers, both the mercury-in-glass one we used for the lower temperatures and our venerable radiation pyrometer used for the higher ones. One interesting effect of using the probe with high temperatures was a distinctive and strangely appetizing smell, we'd describe it as somewhere close to the tang of beechwood smoke in the air of a crisp autumn day.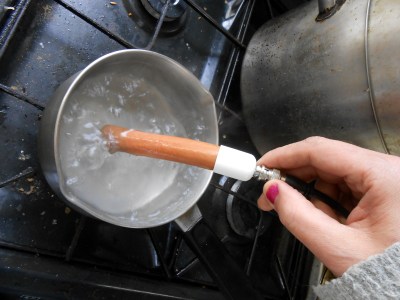 The third mode is that of signal injection, when used without the BNC cable the probe injects a calibrated 450 mV RMS sine wave at either 50 Hz if you are in Europe or 60 Hz if you are in the Americas. This is an extremely useful feature for fault-finding in analogue audio circuits, allowing you to trace each signal path simply by listening for the distinctive tone. We were able to verify this using our bench amplifier, and were impressed by the consistency of the calibration as well as the job the O-scope Mayer engineers had done in maintaining the purity of the sine wave.
So having had the D4/WG5 on our bench for a few days, what's our verdict? It's certainly an unusual probe, and given that it is seeking to replace the most basic piece of test equipment you own it certainly faces a formidable task. But we like the accurate calibration, and we also like the safety features it offers when compared to the hazards of poking in circuitry that is either hot or carries high voltage. We'll certainly be making space in our store cupboard for one, and we'd have little hesitation in suggesting that you follow suit. It might not be the most impressive piece of test equipment you own, but buying an O-scope Mayer D4/WG5 calibrated fleshy test probe won't prove to be your wurst decision.