For the last year or so, Monoprice has been teasing their follow-up to the fantastic $200 MP Select Mini. This is the $150 mini delta printer. We got a look at it last January at CES, it was on display at the Bay Area Maker Faire last May. Now there's one on the Hackaday review desk.
Over the last few years, 3D printing has settled down into what most of us expected way back in 2010. No, not everyone wants, or arguably needs, a 3D printer on their desks. This is a far cry from the hype of a few years ago, leaving us with what we have today. 3D printers are just tools, much like a drill press or a laser cutter.
With that said, there still are some fantastic advances in 3D printing coming down from on high. Prusa will be shipping the 4-color multi-extruder add-on for the i3 Mk 2 shortly, and somehow or another we have infinite build volume printers. Still, there's space to democratize 3D printing, and an opportunity for someone to release a very cheap, very good printer.
Monoprice was kind enough to send me a review unit of the MP Mini Delta before it officially hit their website. This is one of the first off the production line, alongside the few hundred pre ordered on an Indiegogo campaign earlier this year.  Does this printer live up to expectations? It sure does, and that's not just because it's a $150 printer.
This would be an excellent printer at three times the price, and evidence enough that 3D printing is changing from a weird hobbyist thing to a proper tool.
Specs and a Teardown
The MP Mini Delta is an all-metal 3D printer, with a 110mm diameter by 120mm height build volume. It includes a heated build platform with a BuildTak-like surface, auto bed leveling, a full-color display, and WiFi connectivity. This printer accepts PLA, and ABS, and I have run PETG through this printer for a few random objects. The power supply is 12VDC, so if you're building a workshop in a van, here you go. In short, this is a minimum viable product that has a build volume just large enough to be a useful tool for prototyping.
This printer leans heavily on the innovative features found in the knock-out hit of last year, the Monoprice MP Select Mini. We loved this printer last year, and not because it only cost $200 shipped to our doorstep. The Select Mini was a sea change in what could be expected from bargain 3D printers. It had a 32-bit ARM controller board. This printer was technically WiFi-enabled. It had a reasonably large build volume, a full-color display, and a heated bed. The Mini Delta keeps the 32-bit ARM controller, has much better WiFi support, and the full color display looks even better.
With that said, how about a teardown?
To anyone who has taken apart Monoprice's other inexpensive printer, this should seem very familiar. The electronics are divided up into two halves. The first is the controller board, responsible for moving the motors, reading thermistors, and sensing limit switches. This is a 32-bit ARM board based on the STM32F0. When this board appeared in the MP Select Mini, it was just slightly revolutionary. The other half of the electronics consists of a front panel controlled for the most part by an ESP8266. This chip handles the WiFi and drives the display. Apart from a slight reworking of the circuit and a vast improvement of the display's UI, it doesn't appear much has changed.
The mechanics of the printer are, of course, a delta platform, and not much needs to be said about that. The heated bed is a bit interesting; it literally sits on three tact switches. The bed leveling G-code simply taps the nozzle down onto the bed until the tact switches close. Simple, yet effective.
The extruder and hot end are again extremely similar to the MP Select Mini. This is a Bowden setup that does not feed the filament directly from the extruder to the nozzle. Instead, there is a break in the Bowden at the heatsink for the hot end. As with the MP Select Mini, this is the weak link of the entire system. This break in the Bowden tube between the extruder and hot end means flexible filaments are very hard to use. While this problem can be alleviated by re-engineering the hot end with 3D printed parts, it's not a very big issue. However, if you're buying a printer explicitly for the purpose of printing in Ninjaflex, I would look elsewhere.
One notable upgrade over the MP Select Mini is in the front panel. Instead of a rotary encoder, the Mini Delta features just a bright, crisp display and three buttons. A rotary knob is apparently more expensive than three buttons. The UI has been vastly improved and looks far more professional. The garish UI seemingly taken from a Windows 3.1-era application has been replaced with a sleek, modern skin. This isn't a touch screen, but the three-button control makes sense.
WiFi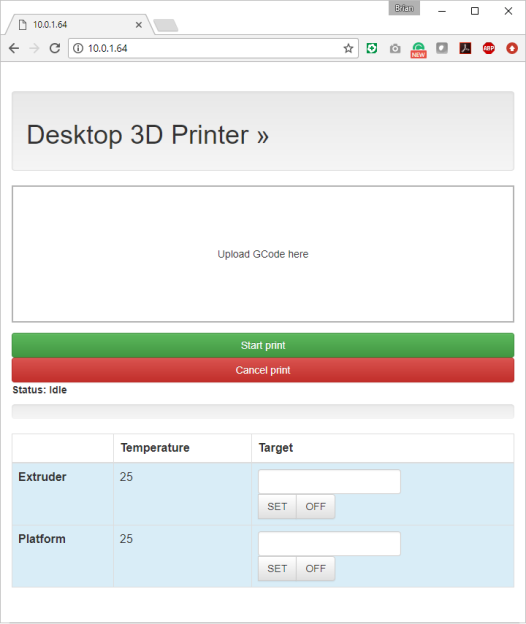 While the Monoprice Select Mini had the hardware for WiFi connectivity, online printing wasn't officially implemented at first. The Mini Delta comes with WiFi connectivity out of the box, and it's actually easy to set up.
The web interface for this printer is simple — it's just a place to drop G-code (which is then saved onto the SD card), a place to set temperatures for the hotend and bed, and two buttons to start and cancel a print. It's not Octoprint and this is a very, very limited web interface, but then again all of this is running on an ESP8266. The future is awesome.
Configuring the web interface requires a mobile app, available in either the Play Store or iTunes, depending on your device preference. To use this app, simply enter the password to the WiFi network. Hold a button on the printer for a few seconds and WiFi magic happens. In less than a minute, the printer will be connected to the network, with the IP address displayed on the printer. From there, simply punch that IP address into any web browser and you'll have access to your printer over the local network.
Again, this isn't a full-featured web interface. For that, you'll need a Raspberry Pi and Octoprint. This is a usable web interface, though, and a welcome addition to the standard feature set of consumer 3D printers.
Hacks and Mods
As with any 3D printer, I expect to see some hacks and mods to improve the performance of this little printer. We've already seen a few for the Monoprice Select Mini including something I did to adapt an E3D hot end, a few to increase the resolution of the printer, and some other mechanical escapades.
The Mini Delta will surely be no different, and here I foresee two major hacks and mods. The first is improving or replacing the hot end, and the second is increasing the build volume of the printer.
I already mentioned the biggest weakness of the Mini Delta is at the hot end; the filament path is unconstrained at the heat break for the nozzle so printing in flexible filament is very difficult. This can be solved by completely replacing the hot end, keeping the filament contained for its trip through a Bowden tube.
While I don't plan to tackle this bit of engineering, the design of the Mini Delta is very amenable to hot end hacking. The platform, or end effector, or whatever we're calling it, is just a piece of steel with upturned edges for the arms, and a central hole surrounded by a few holes for fasteners. It will be simple to engineer an adapter for an E3D hot end, and as with the MP Select Mini, we can reuse the heater cartridge and thermistor.
The second mod I have in mind for this printer is slightly less useful, even more absurd, and bordering on hilarious. One great feature of delta platforms is that extending the Z axis is much easier than with Cartesian platforms. I expect someone will mod the Mini Delta to have a build volume 110 mm in diameter and two meters tall by the next Midwest RepRap festival. This hack will require a metal brake to fabricate the three corners of the chassis, but apart from buying six pieces of two-meter long smooth rod, it will be a relatively easy build.
Well That's Great, What About the Prints?
The first time anyone got a look at the prints produced by the MP Mini Delta were with the Hackaday coverage from the Bay Area Maker Faire. The default test print at Maker Faire and included on the printer's SD card is a small Chinese cat print. The very large layer height used for the Maker Faire demo may have turned a few people off to the Mini Delta — there were visible layer lines that many 3D printing enthusiasts have confused with an inaccurate printer. This demo model was subtly changed in the production version; now, the default test print uses a 0.10 mm layer height. The print quality is amazing, and although the print time is nearly three hours no one will be disappointed by the plastic parts produced with this printer.
As always, a great benchmark for a filament-based 3D printer is the 3DBenchy, everyone's favorite 3D printable tugboat. I was shocked by the quality of the Benchy produced by an un-tuned printer:
This Benchy was printed at 0.2 mm layer height, with some random PLA I had sitting around. No additional tuning was used for this print. This is the out of the box capability of the MP Mini Delta, and the results are phenomenal. The only issue with this print is a slight bit of sagging on the top of the pilot's window. This is a bridging problem, and is one of the most difficult problems to troubleshoot.
By any measure, this is a phenomenal print. This would be an acceptable Benchy to come off a Lulzbot, Ultimaker, or Prusa i3. This is the out of the box settings, using the standard configuration for Cura. I am quite literally gobsmacked at the quality of parts this printer is able to produce. This isn't just an excellent printer for the price — this is an excellent printer.
Market Segmentation is the Key
Over the last few years, the market for 3D printers has expanded enormously. Ten years ago, a 3D printer was only used in engineering firms, only for prototypes, and the machines themselves cost a small fortune. Now, there's an actual market for 3D printers at all levels. If you have a budget, there's a 3D printer for you.
The best metaphor for the 3D printer market is cars. If you have a few hundred dollars or a few hundred thousand, you have an opportunity to buy a car. In this metaphor, the metal sintering printers that build rocket engines are Maseratis, Lambos, and other cars with doors that go like this, not like this. These are, of course, far beyond the price range of the average consumer. Metal sintering, crazy huge build volumes, and other exotic technologies are coming down in price, but the top of the line in 3D printing is a lot like it was ten years ago.
But what about the high-end, prosumer printers? In the car metaphor, these printers would be a Lexus, a Jeep that has earned its nameplate, or a bitchin' Camero. Here, there are plenty of options. Lulzbot makes a fantastic printer, as does Ultimaker. The Prusa Mk 2 is phenomenal with the multi-extruder add-on, it can print in multiple colors just like the Bugattis of the 3D printer world. In the high-end, prosumer space, we're even getting infinite build volumes; the Printrbot Printrbelt is set to sell for $1500 USD.
Pick an auto manufacturer and look at the sales across product lines. Chevy is selling more Sonics than Corvettes, and Tesla will sell more Model 3s than any other model. You'll always sell more econoboxes than muscle cars, and the same is true with 3D printers.
And so we have the Monoprice Mini Delta 3D printer. This is a printer that costs $150, shipped to your doorstep. I don't even know if it's possible for any manufacturer to build a less expensive 3D printer. By any account, this will probably be the most popular 3D printer of all time. Herein lies the problem of reviewing a printer designed to be the cheapest printer: you cannot criticize a Ford Fiesta for not being an F350. Likewise, I can't criticize the Monoprice Mini Delta for a small build volume and inability to print in multiple colors. If that's what you're into, a Prusa i3 will do it, but it will also cost five times what you'll pay for a Mini Delta.
With that said, the MP Mini Delta is an excellent printer. This printer was supposed to ship in April, but now we know what the delays were for. This is a high-quality printer that will find a home on many, many desktops. If you're looking to get into 3D printing, if you're looking for a new hobby, or that eager inventive 12-year-old cousin is showing an affinity for building stuff, this is the perfect printer. It's cheap and well within impulse buy territory. It's also a very well designed and extremely capable machine. I would recommend this machine to anybody, whether that's someone who has never touched a 3D printed part before or someone setting up a bot farm to produce more parts faster.
This will be an exceptionally popular printer and we're looking forward to the hacks that will turn this printer into something remarkable. If you have a useful hack for this tiny printer — or you turned it into a six foot tall monstrosity, be sure to send a writeup into the Hackaday tip line.