When we think about world-famous electronics markets in Asia, usually Shenzhen, Tokyo's Akihabara, or Shanghai's Beijing Road come to mind.
There's another market that I've had my eye on for a few years: Nhật Tảo market in Ho Chi Minh City, Vietnam. It might not be as large or accessible as the more well-known markets, but it's very much worth a visit if you're in the area. I decided it was time to hop on my red motorbike (red things go faster) and give you a short tour of the central market, as well as some more hobbyist-friendly options.
Overview
Nhật Tảo is a busy market. A good strategy is to go in the late morning or early afternoon on a weekday or Saturday. It's slightly less busy at those times, and I avoid Sundays because some stores will be closed or have reduced hours. Do not go during rush hour.
If possible, go with someone who speaks Vietnamese. Someone from Fablab Saigon might be willing to help you out if they're available (more on that later). You may even run into the author of this article.
Electronics suppliers in Nhật Tảo are set up for the local market. While we will cover a few exceptions, most only speak Vietnamese, and high-volume retailers aren't really set up to answer detailed questions in any case. In these places it's best to know what you're looking for, but luckily all the stock tends to be visible, and the vendors all have calculators they can use to quickly show you prices. All business is done in local currency and in cash.
Our focus will be on locations that have been present for at least the last two years and are likely to still be there for a while, as the overall stores and stock tends to be pretty fluid.
One major convenience worth noting is that haggling over price is rarely necessary: my experience has been that these stores sell their products at set prices that do not depend on your nationality. While I'm by no means fluent in Vietnamese, I do speak enough to confirm this, and I know several of the vendors personally.
A word of warning – Google translate does not handle Vietnamese gracefully yet. It works reasonably well for single words or very short phrases, but anything longer often becomes unintelligible. For example, it sometimes translates 'ten' as 'salt' by getting the tonal accents wrong. Speaking of condiments, Nhật Tảo market borders on District 5, which is considered by locals to have above-average restaurants. You may want to scope out a place to eat after going to the market.
A Tour of Nhật Tảo Market

We start our journey at the corner of Lý Thường Kiệt street and Nhật Tảo street in District 10. This is near address 138 on Lý Thường Kiệt which is a major thoroughfare. It's better to use this address than ask for Nhật Tảo market, as there is a fresh produce market elsewhere by the same name. The safest way to get there is by taxi (use VinaSun or Mai Linh brands only), although there's an application used locally called GrabBike that will call an inexpensive motorbike driver at fixed rates, and they always have a helmet for you.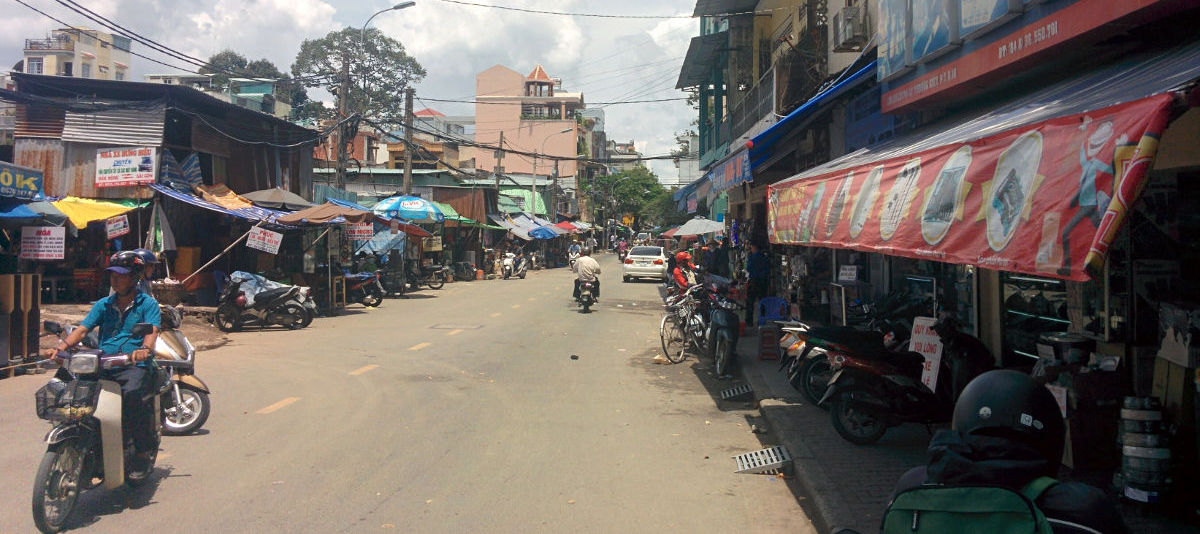 Immediately to your right is one of the better stores to buy tools. They have a decent selection of soldering and hot air rework stations, you can get an 'all-in-one' that includes a variable voltage power supply and an RF detector (for cellphone repair) for around 60 USD. My "Pro'sKit" one has lasted four years of moderate use without complaint. The hand tools are pretty good here too, and it's not usually busy, so if you have some questions they will patiently accommodate you. They even have a website, although in Vietnamese only.

Continuing down Nhật Tảo street, you will see a couple of places selling various LED strips, audio amplifiers, and speakers. Take your first right down the alley, passing more similar retailers until you encounter a main road. Cross the road, passing under a gate, to enter the LED street:
To the right as you walk down the street there are many retailers selling every conceivable type of LED strip and sign. This is one of the places local advertising companies (the stores with signs labeled 'Quảng Cáo') buy the raw materials to meet the massive demand for LED signs in Ho Chi Minh City. If you dig around, you can find painfully bright Arduino-compatible LED matrices for around USD 9. Be sure to pick up a power supply module at the same time; they're worth the price as the sign modules consume more power than common wall adapters can easily manage.
This street also has a few shops that carry more or less only multimeters, wall to wall. The focus is mainly on inexpensive units, but they're quite decent overall.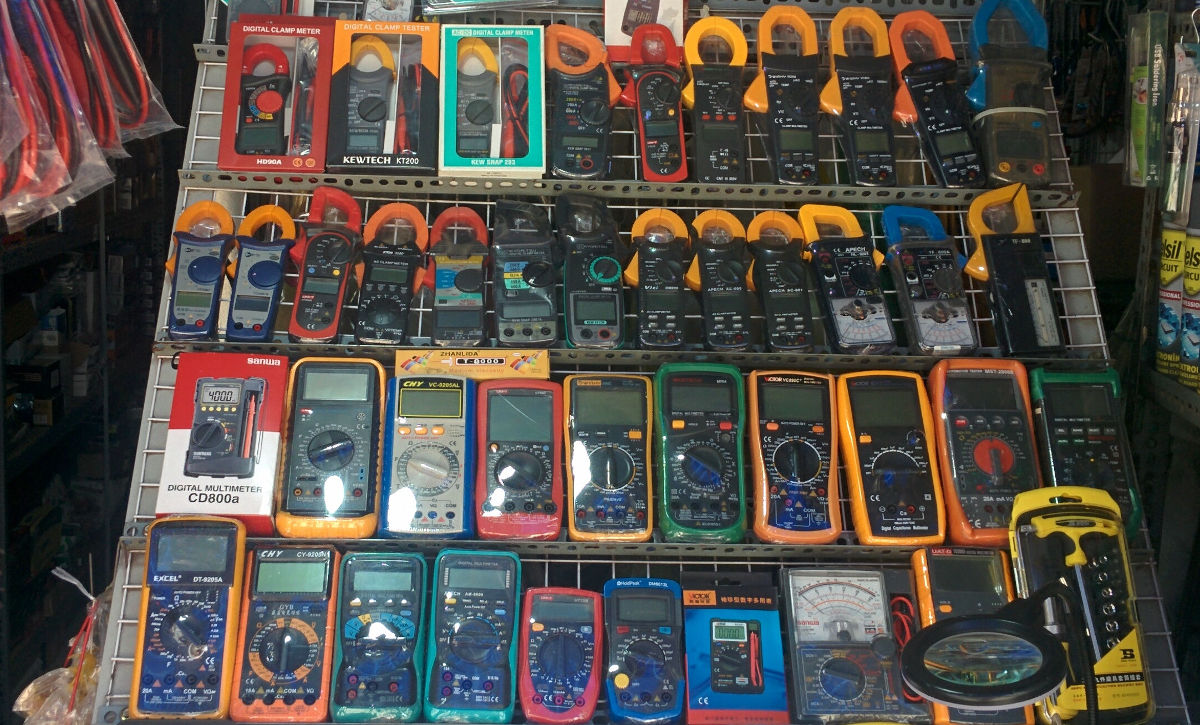 Along the left side of the street, you will see what looks like large apartment blocks with the entrances labeled 'Nhật Tảo'.

The first two floors of these blocks represent the core of Nhật Tảo market and are a labyrinth of stalls crammed full of components. It can be disorienting, but very generally the first floor is the most interesting, selling a variety of components, connectors, and tools.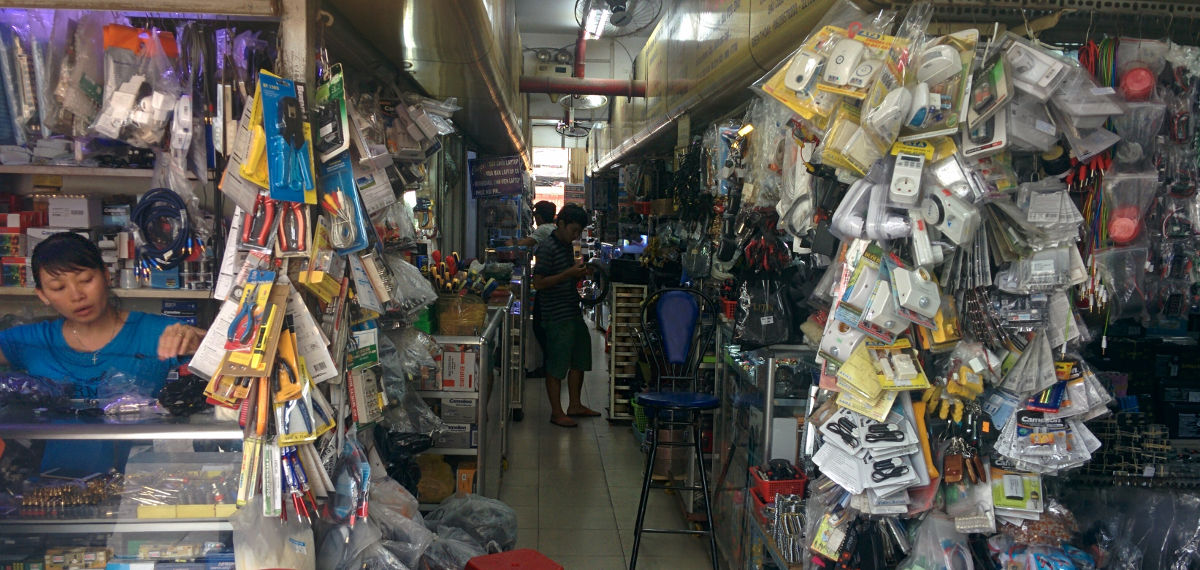 Typically, stores will focus on selling a few items, such as transistors and resistors. Don't mind the mess: if you request a particular transistor part number it will appear in front of you with alarming speed.
Of particular note are the project boxes available. You can get medium-sized ones for about USD 0.55, and the quality is quite good.
On the second floor, the focus is mainly on laptop parts and repair. Most of the stock is a bit older, and unless you live in Vietnam and need to buy parts to repair your laptop or desktop computer, there's not much you will need here.

Beyond Nhật Tảo Market
If the central electronics market proves too hectic, or language barriers win the day, there's another option close by. A local shop called Hshop has an excellent selection of hobby electronics, their staff speak English, and they have a decent website (Vietnamese, but supports English search terms). They also offer a laser cutting service, and when you buy something they will test it in front of you if possible to ensure you don't get defective parts. The price is a little higher than the main market, but this is hands-down the most hobbyist-friendly electronics shop in the city and they carry some really cool stuff, especially sensors.
Finally, I know of one well-stocked market in the suburbs, not far from a local Fablab, that mainly supplies students at a nearby university. While most days there are no English-speaking staff, you can select what you want on their website and show up with a list, so it's a smoother experience than the central market, and the prices are excellent. They also carry some sewing supplies in addition to electronics, and their selection of industrial buttons is very nice.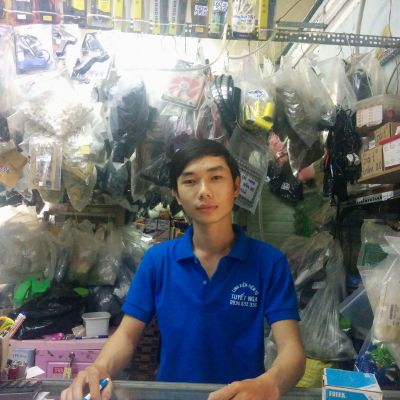 They're hard to find, though. Your best bet is to go to the local market (chợ Gò Vấp). Starting from this point on the map, go southeast down Nguyễn Văn Nghị street until you see a big red fast food chain called 'Lotteria'. Turn right there, continue for about 80 meters, then turn right onto Nguyễn Văn Bảo. Near address 31, you will see a tiny alley to your left (it's right before a school). Go down that alley to the end, and turn right. You'll suddenly be inside a store.
Don't underestimate it – they seem to have somehow made it bigger on the inside than it is on the outside. This place is perfect if you're planning to visit Fablab Saigon while in town, or if you've got a flight soon and need to stay closer to the airport.
Fablab Saigon
Besides being a place full of smart people building awesome things, Fablab Saigon carries its own stock of parts that is sells. The store manager, Hải, also runs a parts sourcing service. He can help you buy just about any component you need in Ho Chi Minh City, and he speaks English. The Fablab itself enjoys a large building with four floors. They offer laser cutting, 3D printing, a prototyping service, and they have a full coffee shop. The best thing about it though, is that despite offering these services, it remains a 'place to meet great people' rather than just a 'place that sells stuff'.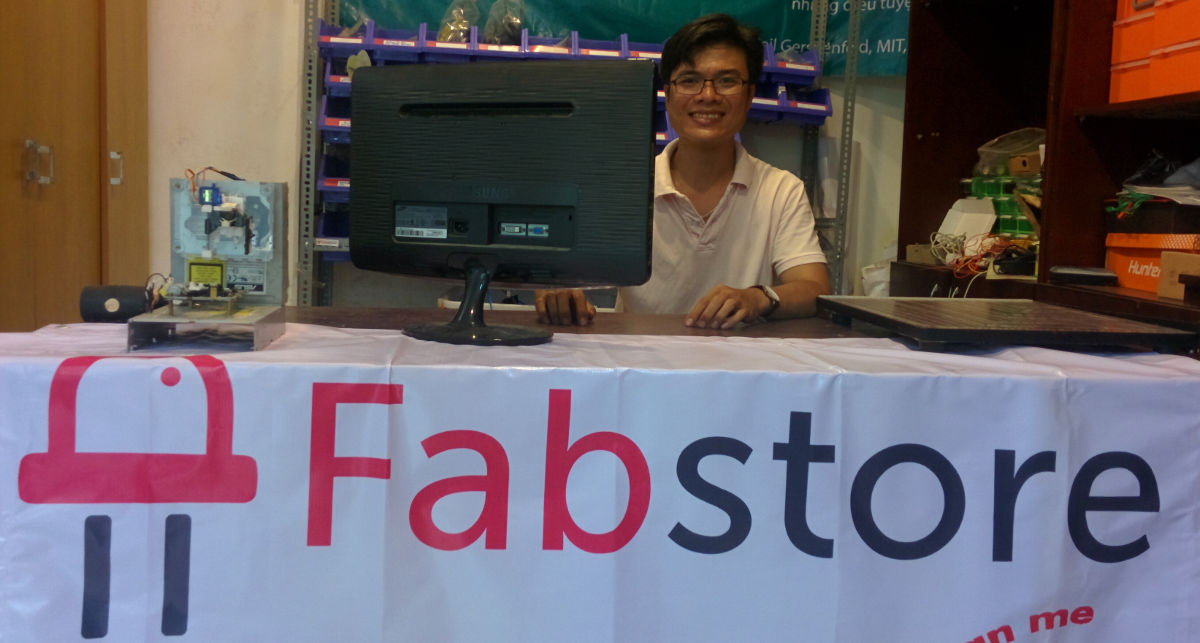 In summary, Ho Chi Minh City has some excellent places to source electronic components and tools. It's not really what you would call an 'engineering tourism destination' like Shenzhen, but it does have a rough, undiscovered gem of a market. If you're visiting Ho Chi Minh City and are at all interested in hobby electronics, it's worth a stop. You'll find something cool, and anything you build with it will have a story.