If you're comfortable with the technical side of becoming a consultant or contractor but are unsure what to charge for your services, you're not alone. "How much do I charge?" is a tough question, made even tougher by the fact that discussing money can be awkward, and at times virtually taboo.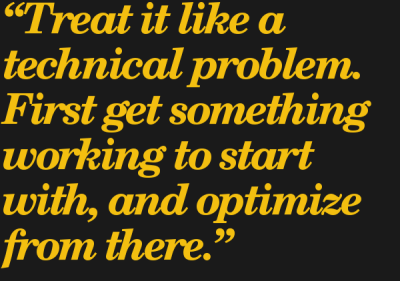 As a result it's not uncommon for the issue to get put off because it's outside one's comfort zone. Technical people in particular tend to suffer from an "if you build it, they will come" mentality; we get the technical side of things all figured out and just sort of assume that the rest — customers, money, and so forth — will fall into place afterward. If you're lucky, it will! But it's better to do some planning.
The short and simple answer of how much to charge is a mix of "it depends" and "whatever the market bears" but of course, that's incredibly unhelpful all by itself. It's time to make the whole process of getting started a bit less opaque.
A stubborn determination to solve my own problems has given me plenty of opportunity to make mistakes and commit inefficiencies over the years; I've ended up with a process that works for me, but I also happen to think it is fairly generally applicable. Hopefully, sharing the lessons I've learned will help make your own process of figuring out what to charge easier, or at least make the inevitable blunders less costly.
Treat It Like a Technical Problem
Approach the money question methodically, and begin thinking of it early. The longer you put it off, the more tempting it will be to latch on to the first number you encounter and run with it. It'll feel like progress, but the problem won't have been solved, it will simply have passed out of your control.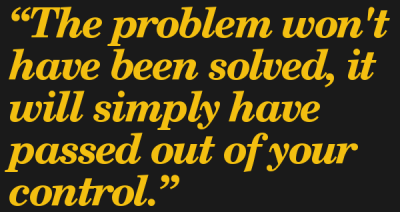 The good news is that while setting the perfect price is an impossible task, it's not hard to come up with a workable one by following a few steps. That's the goal: a sensible starting point.
Here are the factors that will most directly influence how much you should charge for your work:
What your service or product is, and what the market for it is like.
An objective value of your own work (ideally expressed as an hourly rate.)
The level of responsibility and risk involved in the work you do.
The good news is that you don't need to get it all done perfectly right out the gate. You'll make mistakes and commit inefficiencies; just try to make them in ways that you can learn from, and aim to not make the same mistake twice. First get something workable to start with, and optimize from there.
Define What It Is You Do
First you must define the service or services you provide. Describe what service or services it is you propose to do for clients, and define them in terms of the kind of work that actually gets done. If you do more than one kind of work, stick to one at a time for this process.
Determine The Value of Your Work
Your value will be an objective "fair market rate" for the kind of work you are doing, modified by any special knowledge or particular advantages you bring to the table. That modified rate is the number you will use as a baseline when deciding what to charge, and it will also give structure to any job-specific negotiations. Below are two ways to find the going market rate for whatever service you plan to offer; use whichever best applies to your situation.
1. Find People Who Do Similar Work, See What They Charge
The simplest method is to find people in the same area who do the same or similar work, and find out how much they charge. If you're fortunate, you'll have people you can simply ask and receive frank answers and feedback. Otherwise, you'll probably find people are a bit cagey about discussing money. Jack Chapman gives a useful tactic in his book Negotiating Your Salary for getting this kind of information from people: offer something in return. Tell them you are doing a local survey of how much people in the industry charge for their services, and if they agree to talk to you, you'll share the anonymous results of your survey with them. Use Google Forms to create a simple survey you can email out individually. When you have results (five or six will do), share the anonymized report with the respondents. The basic transaction of offering something in return — even if it's just sharing what you learn — is a useful one for interacting with people, especially ones with whom you have no existing relationship.
2. Find Jobs With Similar Levels of Responsibility and Risk, Find Out What Those Pay
Perhaps your work is too unique, unusual, specialized, or cross-disciplinary to have peers or be easily defined, and the previous method isn't useful. In that case, use this next method instead. Find jobs in the same or related industry with similar levels of responsibility and risk to the work you will be doing. Find and record the salary ranges for those jobs (sites like glassdoor.com or indeed.com come in handy) and work from those numbers. Even if the work descriptions don't match, jobs of similar responsibility and risk are usually comparable in terms of compensation within an industry.
3. Modify Based on Any Specific Personal Value You Add
The data you gathered should give you a range of values to work with. Make an average of these researched values for a rough baseline. Then modify based on the following:
Do you have any extra value you personally bring to the table? (Things that can't be quantified, like "grim dedication to a task" don't count.) Think in terms of efficiency you can add or what risks you can remove due to specialized knowledge, training, experience, contacts, or other advantages. The more advantages you have, the more your rate should be towards the upper end of the ranges you researched.
Modification can be in the negative if there is anything you lack that would add inefficiency to your work or increase risk for the client. Ask yourself how well-understood the unknowns in the work you'll be doing are. Generally, the less comfortable you are with facing the unknowns, the less experienced you are and the more you should adjust toward the lower end of the rates you researched.
If the rates you researched are for employee salaries, the rate you charge should be higher than those. The reason is that as a consultant you are responsible for some or all of the following: tools, training, workspace, vehicle, equipment, taxes, insurance, health benefits, and other costs. These are costs that an employer normally pays on behalf of employees, and which they avoid by hiring a consultant. How much higher should your rate be as a result? It depends on too many different things to address fully here, but between 1.2 and 1.6 times a comparable employee's hourly wage is a reasonable range to land in.
What the market will bear depends on the local market. A service priced at $100/hour in City A may only go for $60/hr in City B. If the rates you have researched are not from your area, look up the cost of living difference between their region and yours, and modify their numbers by that amount. It's not optimal, but it is a reasonable way to adjust for regional differences.
4. Market Rate + Added Value = Your Baseline Rate
It's important to remember that the goal here is to identify a reasonable hourly rate that allows you to get started, while avoiding being an obvious blunder that leads to slight embarrassment. Refining what you do and what you charge for your work will be an ongoing process throughout your career.
In summary, your individual value should be a baseline hourly rate derived from what similar work costs in your area (nearer the upper end if you are a seasoned expert, nearer the lower end if you are not), modified by any special advantages or knowledge you bring to bear. That hourly rate should be higher than a comparable employee's hourly rate, for the reasons explained earlier.
If you feel that you could justify your value to a client by explaining how you arrived at your rate, why it makes sense, and can show the research you did to back that up, then you're set.
Adjust Your Work and Rate When Needed
Having a base rate for your services is important, but the process of proposing work and a price to meet a client's needs will usually involve some negotiation. That's out of scope for this article, but don't be afraid to get creative with your pricing and services. For example, if low cost is most important to your client, they may be willing to do some of the work (like assembly, testing, or finishing) themselves. Find out what the client considers important, and target those areas with your creativity. You may also be able to negotiate an exchange of services or use of equipment to make up a shortfall.
Those are just a few creative ways to reduce costs without lowering your prices or rates. Be wary of simply dropping your prices unless you have thought carefully about it.
Keep Records So You Know Where to Improve
Keep records and data of what you decide, and why. The reason is simple: your goal is to do more of what works, and reduce or eliminate the things that don't. Without data, you will have no way to know what is and isn't working, and your decisions will have to come from subjective, unreliable things like habits and right-feeling hunches.
Don't hesitate to experiment if you think you can learn something from doing so. It may be necessary to try different things to find what works, especially if you're providing a new kind of service. For example, a colleague of mine provides drone footage of real estate for realtors. He began by charging the same rate that drone photographers in a major metropolitan city across the country charged. He soon discovered that what people were willing to pay over there was very different from what they'd pay here. He eventually dialed in to what the local market was willing to bear, but only as a result of careful adjustments based on data.
Focus on determining a price for your services that is at least sustainable first, then seek to optimize. None of your errors will be forever, and it will all get easier with practice and experience.
Consider the Forgotten and the Unexpected
Always ask yourself what you may have forgotten, and try to account for the unexpected. If the job will require materials, who pays for them? Will the cost be included in the rate? How will you be reimbursed? Will the project require different kinds of work, such as shop time and programming time, and will you charge for them at the same rate or different rate? What if something goes unexpectedly wrong and you have to start over?
Consider the unexpected, but don't allow your mind to explode into an infinitely-branching avalanche of BUT WHAT IFs over it. As long as you have not gotten yourself completely in over your head, most unforeseen and unwelcome surprises will be no more than learning experiences.
Everything gets easier with experience, but the best thing you can do right now to mitigate job related surprises is to learn to accurately estimate project time. By following a good project estimation process, you'll avoid many common pitfalls.
For examples of the kind of unexpected issues that can crop up when doing a job, the experience of building a few hundred Hackaday Superconference 2017 badges had many good ones.
Got tips or knowledge of your own to share on how to price your work? Stories about early success or blunders? Don't be shy, tell us about them in the comments.