Slowly but surely, RISC-V, the Open Source architecture for everything from microcontrollers to server CPUs is making inroads in the community. Now SiFive, the major company behind putting RISC-V chips into actual silicon, is releasing a chip that's even more powerful. At FOSDEM this weekend, SiFive announced the release of a Linux-capable Single Board Computer built around the RISC-V ISA. It's called the HiFive Unleashed, and it's the first piece of silicon capable or running Linux on a RISC-V core.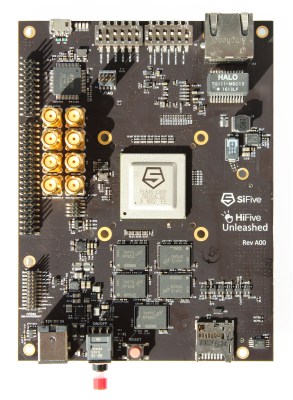 The HiFive Unleashed is built around the Freedom U540 SOC, a quad-core processor built on a 28nm process. The chip itself boasts four U54 RV64GC cores with an additional E51 RV64IMAC management core. This chip has support for 64-bit DDR4 with ECC and a single Gigabit Ethernet port. Those specs are just the chip though, and you'll really need a complete system for a single board computer. This is the HiFive Unleashed, a board sporting the Freedom U540, 8GB of DDR4 with ECC, 32MB of Quad SPI Flash, Gigabit Ethernet, and a microSD card slot for storage. If you don't mind being slightly inaccurate while describing this to a technological youngling, you could say this is comparable to a Raspberry Pi but with a completely Open Source architecture.
News of this caliber can't come without some disappointment though, and in this case it's that the HiFive Unleashed will ship this summer and cost $999. Yes, compared to a Raspberry Pi or BeagleBone that is an extremely high price, but it has to be borne in mind that this is a custom chip and low-volume silicon on a 28nm process. Until a router or phone manufacturer picks up a RISC-V chip for some commodity equipment, this architecture will be expensive.
This announcement of a full Single Board Computer comes just months after the announcement of the SOC itself. Already, GCC support works, Linux stuff is going upstream, and the entire Open Source community seems reasonably enthusiastic about RISC-V. It'll be great to see where this goes in the coming years, and when we can get Linux-capable RISC-V chips for less than a kilobuck.