We first saw someone turn a plastic bottle into plastic ribbon about four years ago. Since then, we've wondered what this abundant, sturdy material could be used for besides just tying things together.
[Waldemar Sha] has answered that question with his excellent brush made from scrap wood and plastic bottle rope. Turning seven 1-litre bottles into curly bristle fodder was easy enough, but they have to be straight to brush effectively. No problem for [Waldemar]. He wound it all up on a  spinning homemade jig that's anchored in a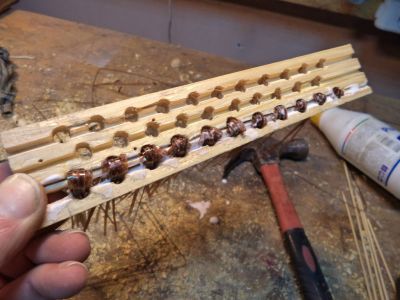 bench vise. The jig is designed to slide into a small electric sandwich grill he had lying around, and he just flips it after a while so the rope straightens evenly.
We really like the way he secured the bristles into the brush base. After drilling the holes, he sawed lengthwise channels that are deep enough for a bamboo skewer. Each group of bristles is hung over the skewer and down through the hole, and everything is glued in place before the handle is added. Sweep past the break to watch him tidy his workbench, and then learn how to make your own plastic rope.
Is there a better use of recycled plastic than making tools? Check out this joiner's mallet made from milk jugs.