When [Ben Krasnow] sees an interesting phenomenon he pursues it with a true scientist's mentality, though it doesn't hurt that he also has the skills and the workshop. This time he's produced a glowing plasma by impacting fused quartz and other materials with a high-speed water jet.
The jet of pure water emerges from a 0.004″, or 100 micron, diameter sapphire orifice with a flow rate of around 2 milliliters per second giving a speed of 240 meters per second. It collides at 90° with a dielectric material where the plasma is produced as a toroid surrounding the collision point.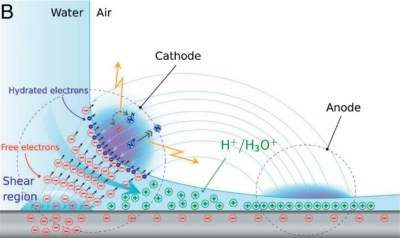 There's been very little research into the phenomena but a proposal from one research paper which [Ben] found is that the plasma is a result of charging due to the triboelectric effect. This is the same effect which charges a balloon when you rub it against your hair, except that here there are water molecules running across a clear dielectric such as fused quartz. This effect results in a positively charged anode downstream of the collision while the water near the point of highest shear becomes conductive and conducts negative charge to the point of smallest curvature, producing a cathode. The electric field at the small-radius cathode acts like a short point with a high voltage on it, ionizing the air and forming the plasma. If this form of ionization sounds familiar, that's because we've talked it occurring between the sharp wire and rounded foil skirt of a flying lifter.
[Ben] found support for the triboelectric theory when he substituted oil for the water. This didn't produce any plasma, which is be expected since unlike water, oil is a non-polar molecule. However, while the researchers tried just a few dielectric materials, [Ben] had success with every transparent dielectric which he tried, including fused quartz, lithium niobate, glass, polycarbonate, and acrylic, some of which are very triboelectrically different from each other. So there's room here for more theorizing. But check out his full video showing his equipment for producing the waterjet as well as his demonstrations and explanation.
[Ben's] insatiable curiosity into interesting phenomenon is well know here on Hackaday. Check out his experiments into making photochromic glass and on the heat treatment of steel.