Throughout the history of personal computers, there are some unique form factors. The 3com Audrey was sold as a computing appliance, meant to sit on a kitchen counter, to display recipes or something. For some reason, Macs were cubes once, and it actually wasn't a bad machine. At one point, you were supposed to put a monitor on top of your computer.
A few years ago, [glitch] read about an interesting system from the early 80s. The SIIG S286 was designed by the same people that made SCSI cards and external hard drives, and it shows: this is a complete 286-based system stuffed into what was probably an external enclosure for a 5 1/4 drive at some point. After finding one of these bad boys on an auction site a few months ago, he finally got it working. It's weird, but it can get on a network, and you can read Hackaday with it.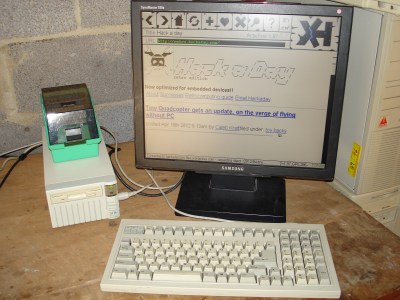 The entire computer is stuffed into a case that's about 5″ wide, 4″ tall, and 10″ long. There's a motherboard with built-in VGA, 'game port', and a printer port. There's a riser card for real 16-bit ISA cards, two serial ports, and a connector for a hard disk and floppy drive. Basically, it's an entire 286 system wrapped up in a tiny box.
After acquiring this machine, [glitch] took it apart and found the usual damage. The CMOS battery leaked, but not too bad. This was replaced with a hermetically sealed lithium thionyl chloride battery. These are non-rechargable, but a quick swipe of the soldering iron disable the motherboard's charging circuitry. The hard drive was replaced with a 128 MB Flash module, and an Ethernet card was installed.
With that, [glitch] has a complete system that can connect to the Internet. Of course, getting on the Internet with a 286 is a challenge, but we have a Hackaday Retro Edition for just the occasion. The browser is Arache, with the mTCP package. That's about as low as you can go in Intel-land, and excellent proof that the computer will work for another 35 years or so.