Hackaday's parent company Supplyframe is at Electronica in Munich this week — booth C5-223. On Thursday from 16:00 – 18:00, they'll be hosting a Hackaday Happy Hour, with a beer and coffee bar, for everyone in the Hackaday community. They'd love to see you and hear what you're working on, be it for your day job or your night job.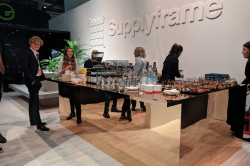 If you missed the #badgelife exhibit at Supercon, it's here at Electronica. There will also be some of those mysterious cubes you may have heard about. Richard Hogben and Bogdan Rosu will be DJing fresh beats. Stop by and say hi to [Sophi Kravitz], [Majenta Strongheart], [Alek Bradic], and everyone else from the Supplyframe team.
Hackaday's own [Elliot Williams] will also be wandering around Electronica Wednesday afternoon. He can't promise free beer, but if you want to crawl around Electronica with [Elliot], meet up at the Supplyframe booth at 14:30 on Wednesday.