It's been far too long since we've had an event in Europe, and we're going to fix that right now. Hackaday Berlin 2023 will be a day-long conference full of great talks, badge hacking, music, art, madness, and gathering with your favorite hackers on Saturday, March 25.
But it doesn't stop there. We'll have a pre-event party Friday night, and then a bring-a-hack brunch on Sunday with further opportunities to show off whatever projects you're bringing along, hack some more on the badge, wind down, and/or play together. So if your travel plans allow it, come in Friday mid-day and don't schedule your return ticket until Sunday evening.
Cutting to the chase: early bird tickets are on sale right now, so go get one! But even if you miss out on those, and they'll go like hotcakes, the regular tickets are well worth it. Everything is fully catered, the badge and the swag are phenomenal, and the talks will be first-rate.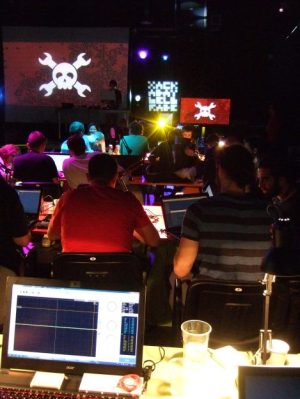 Saturday's main events will include a handful of fantastic invited guest talks, but also a few hours of Lightning Talks given by you – yes, you! If you've never attended a lightning talk, you get seven minutes to run through one of your favorite projects. We want to know what's on your workbench right now, what new skills you've been teaching yourself, or the groundwork you've been laying for the next big project. It's your chance to inspire everyone in the room – grab it.
Everyone asked us to do a second run of the 2022 Hackaday Supercon badge, and now we've got the perfect excuse! Designed by Voja Antonic, the badge is a standalone retrocomputer in the style of an Altair or similar, but it's much more. Between blinking LEDs that display everything going on, down to the gates in the ALU, and a trimmed-down machine language, it's an invitation to get deeply in touch with the machine. If you felt left out because you couldn't travel to Pasadena last November, here's your second chance.
And then there's the crowd. Hackaday really is a global community of hackers, and Hackaday events tend to bring out the best. Even if you're not planning to give a lightning talk (and you should!) be prepared to talk about what you're doing, because everyone else there is just as interested in cool projects as you are. Hackaday Berlin will be a great opportunity to connect and reconnect with new and old friends alike. Come join us!
We'll be following up with a speaker announcement next week, but if you have any questions, let us know in the comments below. Otherwise, we'll see you in Berlin.