When one thinks of art, a birdbath may not be the first thing that comes to mind. However, there is no denying that the La Fontaine aux Oiseaux (The Bird Fountain) is a true work of art. This automaton, created by automaton maker [François Junod] in collaboration with 20 different workshops and craftsmen, represents thousands of hours of work and boasts a complex beauty that is both visible and hidden.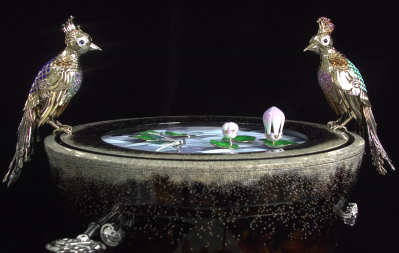 Commissioned by the Van Cleef & Arpels jewelry company, this purely mechanical display piece features a pair of jewel-encrusted birds that perform a little routine around the edge of the bath every hour. All the birds' appendages move while bird song is added with the help of a whistle and bellows. The "water" is also mechanized, with a series of metal plates moving together to create ripple effects, while a water lily opens and closes and a dragonfly flutters above the surface.
The overall effect of this ridiculously over-the-top mechanical art piece is absolutely mesmerizing. Even if the bejeweled exterior isn't quite your style, you can still appreciate its intricate workings thanks the video after the break giving us a peek at the development.
We've featured some of [François]' other work before, which is equally impressive and displays the mechanics in all it's glory. If you want to try your hand at making automatons, 3D printing is the perfect way to get started.