Seeking to shake up the smartphone market, Humane introduced its 'AI Pin', which at first glance looks like someone put a very stylish body camera on their chest. There's no display, only the 13 MP camera and some other optics visible above what turns out to be a touch panel, which is its main gesture-based input method, while it's affixed to one's clothing using either a magnet on the other side of the fabric, a wireless powerbank or a clip. Inside the unit you find a Qualcomm octa-core processor with 4 GB of RAM and 32 GB of eMMC storage, running a custom Android-based 'Cosmos' OS.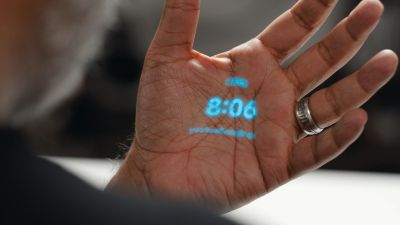 There is also a monochrome (teal) 720p laser projector built-in that provides something of a screen experience, albeit with the expectation that you use your hand (or presumably any other suitable surface) to render it visible. From the PR video it is quite clear that visibility of the projection is highly variable, with much of the text often not remotely legible, or only after some squinting. The hand-based gestures to control the UI (tilting to indicate a direction, touching thumb & index finger together to confirm) are somewhat of a novelty, though this may get tiresome after a day.
An article by [Ron Amadeo] over at Ars Technica also takes a look at the device, where the lack of an app ecosystem is pointed out, as well as the need for a mandatory internet connection (via T-Mobile). Presumably this always-on 'feature' is where the 'AI' part comes in, as the device has some voice assistant functionality, which seems to rely heavily on remote servers. As a result, this ends up being a quirky device with no third-party app support for a price tag of $700 + the $25/month for online service. Not to mention that people may look a bit odd at you walking around with a body camera-like thing on your chest that you keep rubbing and holding your hand in front of.
To be fair, it's not often that we see something more quaint in this space come out than Google Glass, now many years ago.