No matter how far modern computer hardware advances, there's still a fairly large group of people who yearn for the early days of desktop computing. There's something undeniably appealing about these early systems, and while even the most hardcore vintage computer aficionado probably wouldn't be using one as their daily computer anymore, it's nice to be able to revisit them occasionally. Of course the downside of working with computers that may well be older than their operators is that they are often fragile, and replacement parts are not necessarily easy to come by.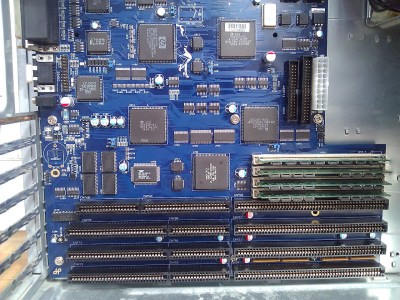 But thanks to projects like this impressive ATX Amiga 4000 motherboard shown off by [hese] on the Amibay forums, getting first hand experience with classic computing doesn't necessarily mean relying on vintage hardware. By making an Amiga that's compatible with standard ATX computer cases and power supplies, it becomes a bit more practical to relive the Commodore glory days. Right now it's mainly a personal project, but if there's sufficient interest it sounds as if that might change.
This board could be considered a modern reincarnation of the Amiga 4000T, which was an official tower version of the standard Amiga 4000 released by Commodore in 1994. It features a 68030 CPU, with 16 MB Fast RAM and 2 MB Chip RAM. For expansion there are four full-length Zorro III slots and three ISA slots, as well as IDE ports for a floppy and hard drive.
The board really looks the part of a professionally manufactured computer motherboard from the late 1990s, which speaks not only to the attention to detail [hese] put into its design, but the manufacturing capabilities that are now available to the individual. With passionate people like this involved, it's hardly surprising that the vintage computer scene is so vibrant.
Of course, this isn't the first newly built "vintage" computer we've seen here at Hackaday. From bare-minimum 8085 computers to the comparative luxury of the 6502-powered Cactus, it seems like what's old is new again.
[Thanks to Laurens for the tip.]