Three things that I love about participating in Maker Faires are seeing all the awesome stuff people have done over the past year, spending time with all my maker friends in one big room over two days and the reactions to what I made. The 2016 Ottawa Maker Faire had all this in spades.
BB-8 – Droid With Magnetic Personality
There's just something about BB-8 that touches people. I once heard of a study that showed that when buying kid's toys, adults were attracted to circles, that that's the reason teddy bears often have round heads with big round eyes. Similar reactions seem to happen with BB-8, the droid from last year's Star Wars movie. Adults and kids alike pet him, talk baby-talk to him, and call to him with delight in their voice. I got those reactions all throughout the Maker Faire.
But my favorite reaction happened every time I removed the head and lifted the top hemisphere of the ball to expose the electronics inside. Without fail the reaction of adults was one of surprise. I don't know if it was because of the complexity of the mechanism that was revealed or because it was just more than they expected. To those whom I thought would understand, I gave the same speech:
"This is the remote control receiver taken from a toy truck, which puts out negative and positive voltages for the different directions. That goes to this ugly hack of a board I came up with that converts it all to positive voltages for the Arduino. The Arduino then does pulse width modulation to these H-bridge driver boards, for speed control, which then talk to these two drill motors."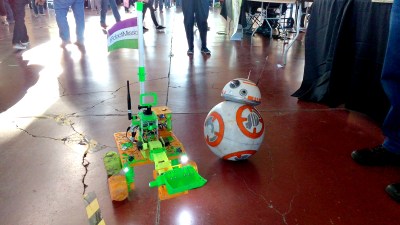 Those I wasn't sure would understand were given a simpler overview. Mine's a hamster drive (we previously covered all the possible ways to drive a BB-8) and so I showed how it sits on two Rollerblade wheels inside the ball. I then flipped it over to show the heavy drill batteries underneath, and then explained how the magnets at the top of the drive mechanism attracted the magnets under the head, which got another look of revelation. All went away satisfied.
But BB-8 sometimes needs a break from human interaction and seeks out its own kind, like Bowie which you can read about below along with more awesome Maker Faire exhibits.
Continue reading "Ottawa Maker Faire: Droids And Pick And Place Machines" →