[Curt White] is working on a smart pill whose copper-zinc battery will use his own stomach acid as the electrolyte. It's not that unusual of an idea, MIT tested a similar approach in a pig. It's also better than using lithium ion batteries, something we covered in this PSA.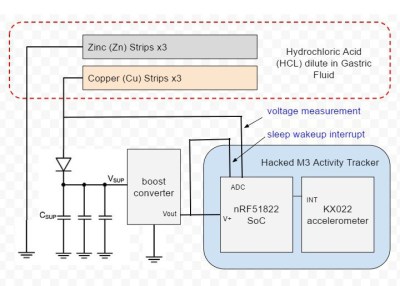 His starting point is a small, hacked activity tracker with its Nordic nRF51822 ARM Cortex-M0 and Bluetooth LE SoC. Most everything else is removed. The battery electrodes are sewn onto a plastic mesh cut to the activity tracker's dimensions. Three coin type super capacitors and a boost converter sit between the battery and the SoC.
He uses the Bluetooth LE for communication, sort of. BLE devices constantly transmit information about themselves and it's this which you see when scanning for available devices. Included in that transmission is a UUID (Universally Unique Identifier) and a name (e.g. "smartpillxyz"). He has the pill transmit data by putting it in that name. This saves power by minimizing the time which the pill's Bluetooth radio is turned on. The smartphone app extracts the data from these transmissions without ever connecting.
His goal is to monitor the voltage and the maximum current. This will tell him if his stomach acid battery works and what can be powered by it. First tests will use regurgitated gastric fluid and then later he'll swallow the pill himself. As he puts it, why not, "people swallow and pass all kinds of weird stuff without a problem." Thay may sound cavalier but judging by his hackaday.io page, he's doing his homework.