Preserved railways are now an established part of the tourist itinerary. It doesn't matter if you call it a railroad, railway, chemin de fer, Eisenbahn or whatever, the chances are that somewhere near you there will be a line rescued from dereliction on which you can spend a Saturday afternoon in vintage rolling stock being hauled by a locomotive long ago withdrawn from regular service. They are established enough to have become an industry in their own right, with the full range of support services to maintain hundred-year-old machinery and even build entire new locomotives.
So we've become used to seeing preserved railways in a state of polished perfection. Sometimes a little too perfect, there was a wry observation in a recent BBC documentary on the subject that a typical British preserved railway represents an average day in the 1950s when the Queen was about to visit. Anyone who lived through that era will tell you the reality was a little different, how run down the system was after World War II and just how dirty everything became when exposed to decades of continuous coal smoke.
A particularly worn-out section of railway in those days could be found at Tywyn, on the Welsh coast. A 2'3″ narrow-gauge line built in the 1860s to serve a slate quarry and provide a passenger service to local communities, the Tal-y-Llyn Railway (Welsh pronunciation help) had been in continuous decline for decades and on the death of its owner in 1950 faced closure. With only one of its two locomotives operational and its track in a parlous state it attracted the attention of the author Tom Rolt, already famous for kick-starting the preservation of Britain's inland waterway system. A preservation society was formed, and in a joint enterprise with the former owner's estate the line was saved. The world's first preserved railway had commenced operations.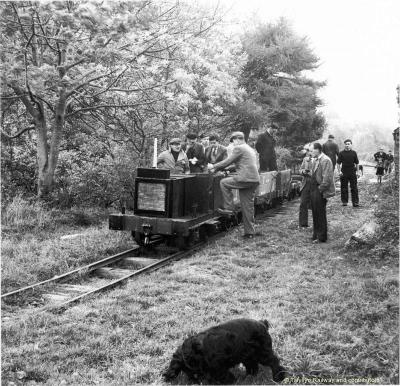 In a country reeling from the economic effects of fighting a world war there was no infrastructure for a group of enthusiasts rescuing a near-derelict railway. Nobody had ever done this before, there was no body of expertise and certainly no handy suppliers to call when parts were required. To rebuild their line the Tal-y-Llyn volunteers had to reach into their own well of initiative gained over the "Make do and Mend" war years and build their own way out of any challenges they encountered. In case you were wondering what the relevance to Hackaday readers has been in the last few paragraphs there's your answer: what would you do if you were handed seven and a quarter miles of run-down track and a single barely serviceable locomotive that is one of the oldest in the world still running?
We are fortunate that in 1953 an American film maker, Carson "Kit" Davidson, visited the line, and through his affectionate short film we have a portrayal of the railway's state in the early stages of preservation. When the footage was shot they had secured a second serviceable locomotive courtesy of the nearby and recently closed Corris Railway, but had yet to replace the majority of the worn-out and overgrown track. It's a treat to watch, and sets the stage very well for the home-made machinery that is to follow.
Continue reading "Rescuing The World's First Preserved Railway" →