It's one thing to pull off a hack, it's another entirely to explain it so that everyone can understand. [Micah Elizabeth Scott] took a really complicated concept (power glitching attacks) and boiled a successful reverse engineering process into one incredible video.

We know, watching 30 minutes of video these days is a huge ask, just watch it and thank us later.
She explains the process of dumping firmware from a Wacom tablet by hacking what the USB descriptors share. This involves altering the power rail smoothing circuit, building her own clock control board to work with the target hardware and a ChipWhisperer, then iterating the glitch until she hones in on the perfect attack.
This, of course isn't her first rodeo. Also known as [scanlime], she's been on the scene in a big way for a while now. Check out more of her work, and perhaps congratulate her on recently being scooped up for a Principal Researcher role that we'd like to attribute in part to the hacks she's been demoing online. You should also thank her for being a Hackaday Prize Judge in 2015 and 2016.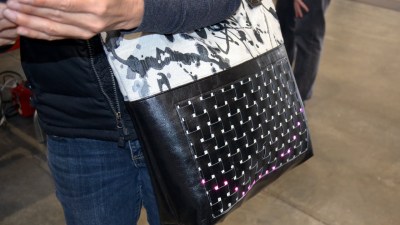 This year we spotted [Debra Ansell] at Maker Faire, not as an exhibitor but an attendee taking her newest creation out in the wild. [Debra's] LED matrix handbag is a marvel of fabrication — both design and execution are so great it is hard to believe this is not a commercially available product. But no, the one-of-a-kind bag uses woven leather strips spaced perfectly to leave room for WS2812 RGB LED modules to nestle perfectly. Look slike she even posted a tutorial since we last checked! If you don't recognize her name, you might recognize her company: GeekMomProjects. She's the person behind EtchABot, a robotic addendum to the diminutive pocket Etch a Sketch which [Debra] sells on Tindie.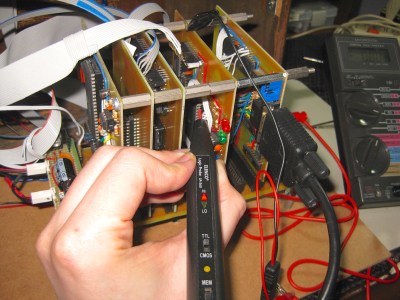 Our fascination with [Quinn Dunki]'s work goes way way back. She has a software background but her hardware chops are to be admired. Recently we've delighted in her efforts to beef up the fabrication abilities of her shop. Want to know how to vet your new drill press — [Quinn] has you covered. We also enjoyed seeing her bring an inexpensive bandsaw up to snuff. There are too many other great hacks from [Quinn Dunki] to start naming them all. We'll leave you with her amazing work on Veronica, the scratch-built 6502 computer that she brought with her for her Hackaday 10th Anniversary talk. Her avatar at the top is from one of her PCB etching tutorials.
Celebrating Ada Lovelace Day
Today is the second Tuesday in October — it's Ada Lovelace day, a worldwide celebration of women in science and technology. The hackers above are some of our all-around favorites and we have featured all of their work frequently. Their impact on technology is undeniable, we give them much respect for their skills and accomplishments. We'd love to hear your own favorite examples of women who have incredible game when it comes to hardware hacking. Please let us know in the comments below.