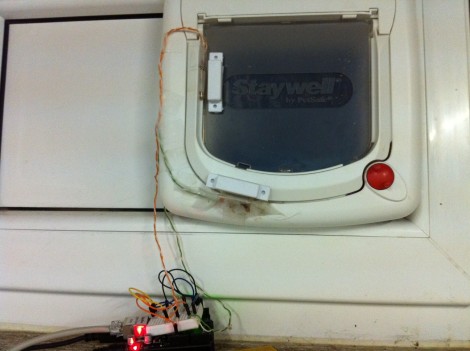 Dogs may be man's best friend, but cats are certainly a hacker's best muse. They provide so many 'reasons' for projects, like this cat door which [Clement] augmented to monitor the comings and goings of his feline friend (translated). He's using a web service we hadn't heard of before called PushingBox to send notifications like Tweets and Emails from the Arduino monitoring that door.
The two white rectangles attached to the cat door in the image above are magnets commonly used for entry door monitoring. Using a pair of them along with reed switches lets the system differentiate between an incoming or outgoing cat. The Arduino is web-connected and running the PushingBox API to manage the notification messages. See a demo of the system in the clip after the break.
This would be a nice addition to the cat door we saw [Dino] build. Of course, if you really want to go all out with the cat hacks the next project should be a GPS tracking collar.