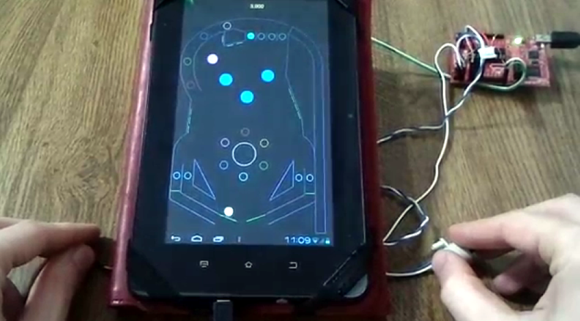 This hack, which adds external flipper controls to Android pinball, is a great way to cut your teeth at Android hardware hacking.
[Ruben] decided to go with the TI Launchpad for this project. The MSP430 dev board offers serial communications via a USB connection, but it's not quite as easy as just finding the right cable. His tablet does support USB On the Go (OTG), but the board identifies itself as an ACM device which needs to be handled differently. In order to get the tablet talking to the Launchpad he compiled a CDC_ACM module for the Linux underpinnings that make up every Android OS. In this case the module is tailored for the Allwinner A10 chip inside his model of tablet, but it shouldn't be too hard to adapt his guide for other processors.
Of course you could go a different route and use Bluetooth for connectivity. We've seen several gaming peripherals that use this technique with Android devices.