Do you love pinball, but can't justify owning a full-size cabinet? Yeah, us either, and that's why we're so interested in [mircemk]'s great-looking DIY mini virtual pinball cabinet. Since [mircemk] is a IT service specialist, they are lucky enough to have access to lots used and broken equipment, and that's what this build is made of.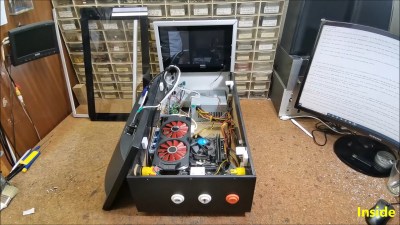 Essentially two computers working together, the playfield is a old 17-inch monitor that needed its LED lighting replaced before gracing the MDF cabinet The backglass is an ancient 10-inch tablet that was perfect for this application.
Even the motherboard, RAM, and SSD came from one of [mircemk]'s previous PCs. The SSD needed some attention first as well — it didn't work sometimes, and didn't show up in the BIOS at all, so [mircemk] threw it in the oven for 10 minutes at 250°, and now all is well.
One thing we really like about this build is that instead of designing a control board for the buttons, [mircemk] used a cheap USB joystick and wired them up to the pads.
So how does the tablet figure into all of this? It's connected to a PC via USB and does its job thanks to a piece of software called Wired XDisplay. There is even a tilt switch in this bad boy. Because what's a pinball cabinet without a tilt switch? A cheater's cabinet, that's what. Check out the build/demo video after the break.
Don't even have the space for a mini cabinet? We hear you. Here's one that fits in the palm of your hand.
Continue reading "Virtual Mini Pinball Cabinet Scores Big" →