[Niklas] told us about his newest art project that he is calling a Pneumatic Sponge Ball Accelerator. This isn't a home workshop type of project, it is a full fledged art exhibit displayed at the Tschumi Pavilion in Groningen / The Netherlands. One-thousand black sponge balls move from a big glass ball-reservoir bubble to another via a 150 meter long track of clear plastic tubing. The balls move up to an impressive 4 meters a second. Admirers of the installation can operate the machine and its airflow from outside the pavilion by pressing their hand up to a touch sensor installed on the wall of the exhibit.
All of the ball movement is powered by an ordinary home vacuum. Since it would be a short display if all the balls traveled in one direction, ending up in just one of the glass bubbles, [Niklas] came up with a simple yet functional valve that reverses the flow of air in the tube. This is done by a rotatable disk with two holes in it. Depending on its position, it connects one of the two bubble to the vacuum, leaving the other vented to outside atmosphere. Since the vacuum side of the path is low pressure and the ambient atmosphere is relative high pressure, the air travels towards the vacuum bringing the foam balls with it. No balls get sucked into the vacuum because the outlet tube is at the top of each bubble.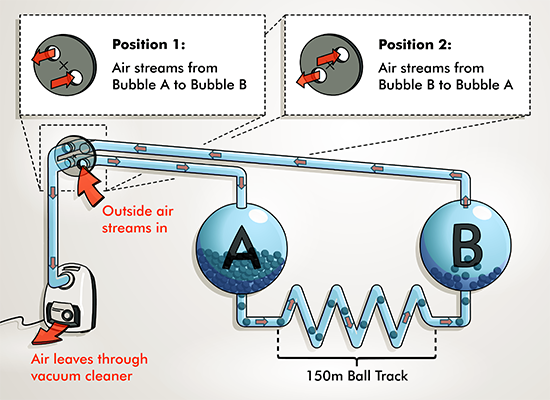 Find two videos after the break, they are well worth watching.
Are you wondering what it would be like to travel through this contraption? Wonder no longer as this video provides a first person point of view thanks to a tiny camera stuffed inside a custom foam-covered capsule:
We've previously covered a ball sucking machine here on Hackaday that [Niklas] acknowledges was partial inspiration for his project.