As the dashing officer shown above will tell you, early data processing machines and ADP systems employed two types of magnetic cores for memory and other purposes. This 1961 U.S. Army training film is an introduction to the properties of ferrite cores, which are commonly made from nickel alloy and other magnetic materials. As this is only part one of a series, the metallic ribbon type of magnetic core is covered in some other segment we have yet to locate.
The use of magnetic cores for random access memory was built upon transformer theory and provided a rugged and low-power solution until the semiconductor came into vogue. Before that time, the humble ferrite core served many uses and did so very well. The Apollo Guidance Computer had erasable magnetic core memory, and much of its software was stored in core rope memory.
The film covers a lot of theory and does so clearly and concisely. It begins by explaining what a magnetic core is and why it's used, and then moves on to describe how the cores are used to store bits and the method by which they can transfer information to other cores. Along the way, it provides background on bi-stable devices and provides explanation of magnetization behavior in terms of magnetizing force and flux density.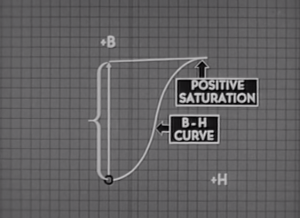 Essentially, a core can be magnetized in two directions based on the winding's direction and the end of the conductor at which a current is introduced. The magnetizing force exerted is proportional to the amount of current flowing through it multiplied by the number of turns on the winding. As the magnetic force upon a core increases, the graphed curve showing the relationship between the magnetizing force H and the flux density B eventually flattens out as the saturation point is reached. When the flow of current stops or is reduced, the core material retains most of its magnetism, and this is known as its residual magnetism.
In order to overcome the residual magnetism of a core, a certain amount of magnetic force referred to as coercive force is needed. Once this force has brought the flux density back to zero, the curve can move toward the opposite saturation limit. Between these limits, the hysteresis loop can be determined.
In order to influence a second core, the output winding of the first core is linked to the input winding of the second core. A shift winding is introduced on each core to prevent the binary state from switching back to its original value. In closing, the dashing officer will explain the simplified logic diagram representing what you've just learned.
[Thank you to Martin for sending this in]
Retrotechtacular is a weekly column featuring hacks, technology, and kitsch from ages of yore. Help keep it fresh by sending in your ideas for future installments.