A while back [Dave] decided he wanted to build his own keyboard. [Dave] has no experience in design, or dealing with manufacturing companies, or even sourcing materials – he just wanted to see if he could do it.
That's the beauty of the DIY world – most of the time, you can do it, you just don't know it yet. The keyboard is made out of laser cut steel and acrylic sheets. The switches and key caps are Cherry MX Browns, supplied by GONSKeyboards Works. A Teensy 2.0 lies at the heart of the keyboard acting as an HID device, and the whole thing assembled looks pretty slick – but it wasn't easy getting to that point.
As [Dave] explains in his article, designing the enclosure from scratch was the hardest part. Seriously, how would you design a keyboard? Do you look at the keyboard you already have? He started researching different DIY keyboards and stumbled upon [Matt3o's] Brown Fox Keyboard – a simple yet elegant design that he would take a few design cues from. He then learned how to use DraftSight (Free 2D CAD software from the people who make SolidWorks). He admits the learning curve is pretty steep; if you've never used CAD before.
Once he had it all figured out he was able to sketch up the layout, but when he tried sending it off to the manufacturer, they wanted a completely dimensioned drawing – you know, instead of just taking the CAD flat pattern and putting it into the CNC machine…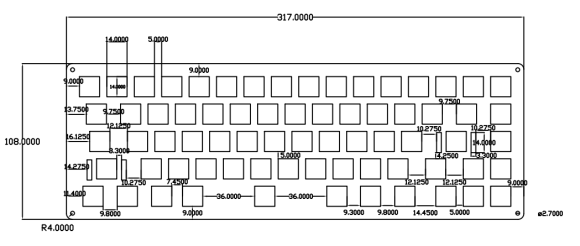 [Dave] admits "If anyone here is a Draftsman, I apologize for this filth." However, the company was able to use it! So if it works it works – though they probably used the flat pattern and just had the drawing for reference. But to be fair, working as a mechanical developer, I've seen worse drawings. Much worse.
But for [Dave's] reference, and any other designers in training, it could be cleaned up considerably just by dropping a few decimal places, as some manufacturers would see over three zeros as an indication that it has to be accurate down to the micron… which would be incredibly expensive. Oh and keeping the dimensions off of the actual part using leader lines (extended dimension lines) also keeps the drawing neat and tidy. That's just Drafting 101 – I am by no means an expert.
Anyway, back to the hack. Lucky for [Dave], everything fit perfectly when he put it altogether, saving him from having to modify the design. All that was left was the tedious task of wiring up all the switches to the diodes and then to the Teensy, whose small size is normally a blessing, but in this case becomes very fun to wire.
He's also done a great job explaining the entire process, which is invaluable to anyone interested in jumping into the design world, and for [Dave] this is just the beginning. He's already planning version 2.0 which will feature his own PCB!