This is a post about workbenches, but not the benches you're probably thinking about. Workbenches meant for electronics development are simple matters – just about any flat surface, a few shelves for equipment, and an anti-static mat will be fine for every conceivable use. Workbenches for woodworking are a separate matter entirely. There's actually quite a bit of history behind the development of the woodworking workbench, but the basic idea is a thick laminated wood top, integrated vices, holes in the work surface for bench dogs, and ergonomics that allow for comfortable use of hand tools. The basic design of these benches hasn't changed much in several hundred years, and [Dirk] thought the design was ready for a modern update.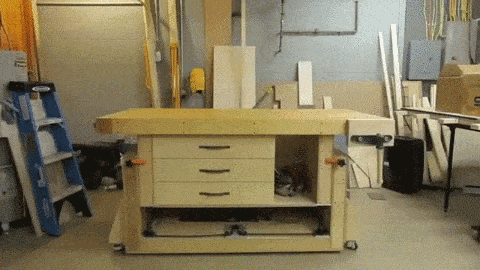 Yes. This one moves on its own. It's a robotic woodworking workbench that lifts the workpiece and table up to a comfortable position. The lifting mechanism is a quartet of Acme threaded rods all powered by an Arduino-controlled stepper motor linked together with sprockets and chain. There's a remote control to raise and lower the bench, and a few batteries tucked behind the mechanics to allow for off-grid operation.
A bench must be sturdy, and this one has clamps on the frame of to clamp the 'elevator car' securely to the bench. Leveling casters make this bench mobile, giving [Dirk] the ability to move it around the shop, or from site to site. An integrate face vise and a twin-screw end vise securely hold the workpiece to the table, and a linseed oil finish make scratches and gouges easily repairable.
The majority of the frame is constructed out of birch plywood cut on a CNC, so if you have a Shopbot or other large router available to you at the local hackerspace, building this bench for yourself is a much simpler matter than the mortise and tenon joinery of a more traditional woodworking workbench. If you end up building this bench, be sure to pick up the casters [Dirk] used; this thing weighs 800 pounds. Massive, heavy, and an excellent bench that can be passed down to your grandkids. Video below.