We are all aware of the typical wood shop vice, the type that is mounted underneath the workbench and takes forever to open and close by continuously spinning a large handle. These vises normally only open several inches due to the length of the operating screw. They are also not very wide because a cantilevered wide jaw would provide less force the further away it is from the center-mounted operating screw.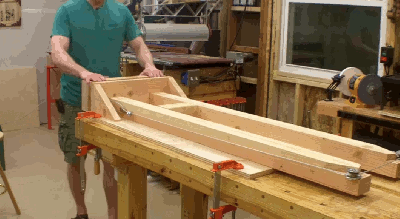 Wood worker [Andrew] wanted a very versatile and large vise for his shop. It needed to be wide, provide equal clamping force along the jaw and be able to hold very thick objects as well. One more thing, he wanted it to have a quick release clamping system so there would be none of that continuous handle spinning nonsense.
Spoiler Alert: [Andrew] did it! The end product is great but the interesting part is the journey he had taken along the way. There were 4 revisions to the design, each one making the vise just a bit better.
Continue reading "New Cable-Based Vise Improves Woodworking Workshop" →