We just had our first drawing for the Trinket Everyday Carry Contest. Thanks to a little help from random.org, the winner is [Korishev] with his project Trinket Timer!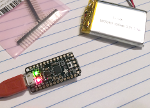 [Korishev] finds that family life calls for a lot of timed events, from how long the kids spend on their homework to keeping the peace by sharing toys. The plan is to build at least a one timer for each child that they will be able to carry around and use as needed. We hope he gets them in on the build to help sow the seeds of hardware development at a young age.
As the winner of the first drawing [Korishev] will receive this beautiful BLINK(1) MK2 from The Hackaday Store. The USB dongle houses a programmable RGB LED. We wonder if this will also be applied as an additional timer for the household?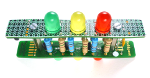 If you didn't win this week, don't worry, there are still four more chances to win a random drawing! Our next drawing will be on 12/9/2014 at 9pm EST with the Cordwood Puzzle as a prize. To be eligible you need to submit your project as an official entry and publish at least one project log during the week.
The deadline for the main contest is January 2, 2014! There are just over 40 entries right now, and the top 50 will receive custom t-shirts. Of course the three top prizes are the real juicy ones. Let's get those pocketable projects going!