There are certainly battery hungry devices out there on the market and, unless you do some serious research before the purchase of said device, you really don't know how it will perform. Needless to say, some of us get stuck with power hog device, and it seriously sucks because changing out batteries often is expensive and just plain annoying.
If you couldn't tell, I am speaking from experience, my old Sony DSC-H5 camera works great with the exception of needing new batteries every hour. And if you get cheap batteries, the camera won't even turn on! There's a USB connector on the camera but it is only for transferring data and there is also no DC input jack. The entire situation is a totally bummer.
I'm happy (or disappointed) that I am not alone in the world. [Phil] wrote into the HaD tip line to tell us about his solution to this very problem. He has a Canon SD1000 camera and although the battery works fine he needs it to work at an altitude of 15km in order to take some sunrise photos. Cold weather testing (in the fridge freezer) showed that the battery isn't going to cut the mustard for the hour-long flight. The rest of the balloon-lifted unit already has a battery pack and the plan would be to tap into that to power the camera. Unfortunately his camera, like mine, doesn't have a DC input jack and can not be powered off the USB port.
[Phil] decided to make a 3D printed battery emulator. It sits in place of the stock battery and holds bare wire where the batteries terminals normally are. The other end of the wires are run out of the camera to a voltage regulator that converts the battery pack's 6 volts down to the 3.9 that the camera needs.
[Phil]'s project inspired me so much that I decided to make my own battery emulator! [Phil]'s 3D model is available for download but unfortunately my camera takes standard AA cells. No biggy though, I do have the capability to model my own. Measuring the AA batteries made for a quick modeling of an emulator.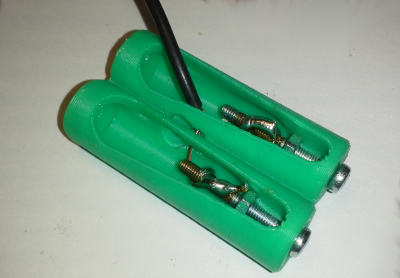 One thing I had to keep in mind is that the 2 batteries are close to each other but they are not touching. I had to account for that in the design since I wanted my emulator to be one piece, rather than two separate AA cells. Instead of making the bare wire contact the battery terminals in the camera, I used 3mm pan head screws for no other reason than that I had them kicking around and they reminded me of the button on a AA cell. A little flux helped the solder stick to the screws and some post-photoshoot hot glue will keep things insulated and provide strain relief. To power the camera I just used an old 3.2vdc wall wart. Yes, my camera is not mobile anymore but I can once again use it for shots around the shop.
AA Battery Emulator STL File Link
[Phil] hasn't launched his camera yet but we are definitely looking forward to checking out his high-altitude sunrise photos.