Researchers at the Hasso Plattner Institute have created "Scotty," a so-called teleportation system. While the name is a clear homage to the famous Star Trek character, this is not the Sci-Fi teleporting you may be expecting. The system is composed of two 3D printers (they used a pair of MakerBot Replicators). The "sender" printer has a camera and built-in milling machine. It uses deconstructive scanning – taking the picture of an object's layer, then grinding that layer down to expose the next layer – and then sends the encrypted data to a "receiver" printer with a RasPi to decrypt the data so that it can immediately print the object. The ultimate idea behind this is that there is only one object at the end of the process.
It's a disservice describing Scotty as a teleporter. By the researchers' definition of a teleporter, the lowly fax machine is on par with Scotty – and it doesn't destroy the original. The researchers claim that this destructive-reconstuctive method preserves the uniqueness of a given object, as long as any sentimentality. We can agree with the unique aspect: the less copies of something means it retains it intrinsic value in the marketplace. The sentimentality – not so much. We've all had a moment in our lives where a treasured item of ours, worthless to everyone else, was destroyed. Either we'd get a replacement or someone else would give us one to silence our wailing, but it wasn't quite the same. If you could clone your dead pet, subconsciously you'd know it's not going to be the same Fluffy. It's that exact thing, atoms and all, that has the emotional attachment. Trying to push that psychological perspective onto Scotty's purpose is irksome.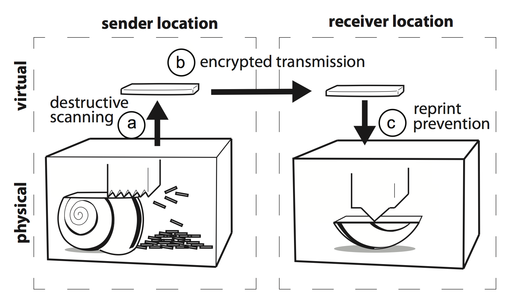 Focusing on sales for Scotty is more appropriate, though not without it's problems. Ideally, for online sales, it's a way to preserve licensing. You buy a cube, you get one cube; you don't keep the file to make a hundred cubes without giving the vendor their due. However, from a vendor's perspective, it is far more profitable for them to keep a prototype file and send a one-time use file rather than go through the process and cost of manufacturing dozens of objects that will be destroyed anyway. Plus, as any owner of a 3D printer is well aware of, prints don't always come out perfect the first time out. What happens when there's a screw-up on the receiving printer; you don't have the opportunity to start over, because the original object is destroyed. There is a fabrication log that prevents completed objects from being reprinted, but nothing is said about it allowing reprints of failed runs or of error detection. Neither the vendor nor customer benefits from that scenario. And as for a sentimental object – now it's ruined. If this system was to be explored further for a marketplace, these are issues that need to be considered, especially since there are plenty non-destructive ways to scan the innards of an object.
Scotty is an interesting project, and does use a novel approach to 3D printing. It requires a robust system to ensure successful prints on the first try, but it's going to be a long time before something like this is practical. We see it more an artistic piece and proof-of-concept, but it falls short of the "teleporter" hype.
[via TechCrunch]