If there's one downside to digital storage, it's the short lifespan.  Despite technology's best efforts, digital storage beyond 50 years is extremely difficult. [Robert Grass, et al.], researchers from the Swiss Federal Institute of Technology in Zurich, decided to address the issue with DNA.  The same stuff that makes you "You" can also be used to store your entire library, and then some.
As the existence of cancer shows, DNA is not always replicated perfectly. A single mismatch, addition, or omission of a base pair can wreak havoc on an organism. [Grass, et al.] realized that for long-term storage capability, error-correction was necessary. They decided to use Reed-Solomon codes, which have been utilized in error-correction for many storage formats from CDs to QR codes to satellite communication. Starting with uncompressed digital text files of the Swiss Federal Charter from 1291 and the English translation of the Archimedes Palimpsest, they mapped every two bytes to three elements in a Galois field. Each element was then encoded to a specific codon, a triplet of nucleotides. In addition, two levels of redundancy were employed, creating outer- and inner- codes for error recovery. Since long DNA is very difficult to synthesize (and pricier), the final product was 4991 DNA segments of 158 nucleotides each (39 codons plus primers).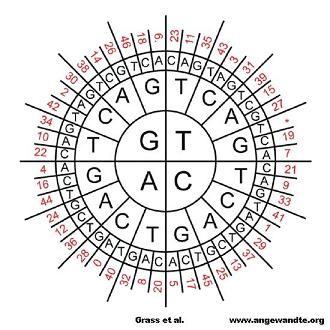 Accelerated aging experiments, where the DNA was exposed to sustained temperatures up to 70ºC for 1 week, compared DNA encased in silica to DNA on other dry mediums, like paper or polymer. After one week, significant degradation occurred in all but the silica-encapsulated DNA. The silica provided complete isolation from the external environment. [Grass, et al.] noted that adding a layer of titanium dioxide to the silica adds protection from light, especially UV.  Thus, only the DNA from the silica was sequenced and decoded. Decoding began with the inner code, correcting any individual base errors. Sorting the sequences by index followed. Outer-decoding then corrected any errors in whole sequences or the recovery of lost ones. The overall results showed that not only did silica preserve the DNA the best, the error-correction allowed perfect retention of the original data.
The duration of the accelerated aging test corresponded to 2000 years. Additional testing suggested that storing the DNA in silica at -18ºC (such as at the Global Seed Vault) could stabilize it for over 2 million years, longer than mankind has existed. Potentially, all the information we've ever generated as a species could be stored in a soda bottle.
While the published article is only available for purchase, the supplemental information is publicly available and goes into a great deal of depth. We are simply blown away by this research.  One thing's for sure: we'll never have to worry about the Archimedes Palimpsest reading like bad fanfiction to our descendants!
[via Reddit]