Join us for a Meetup on Saturday, September 12th near Washington DC. The Hackaday Crew is headed out to the DC area a week from Saturday and we want to hang out with you. We'll be hosting a meetup at Nova Labs hackerspace in Reston, Virgina which is on the Northwest side of DC.
We'll get things rolling at 6pm on Saturday, September 12. The event includes a few lightning talks, some food and drink, and a lot of socializing. This is free to all but you do need to RSVP to let us know you're coming. We want you to bring a hack to show off. We love to see what people are working on no matter the level of complexity or stage of completion.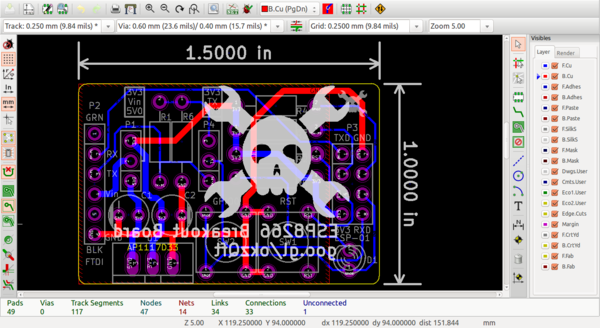 This all started when [Anool Mahidharia] mentioned that he'd be at Nova Labs on September 11-13 to lead a KiCAD PCB design workshop. This 2.5 day boot-camp starts with installing the Open Source EDA software on your laptop and ends when you have a completed PCB design ready to be submitted to a board fab. There is a charge for the workshop and attendance is limited so if you're interested in it you should sign up now. Our events page is a good collection of information on both events as well as directions to get to Nova Labs.
The workshop is being organized by our friend [Bob Coggeshall] who we first met (and interviewed about his work on the Linux 'sudo' command) back in 2014 at Bay Area Maker Faire. Since then, [Brian Benchoff] swung by and visited [Bob] to talk about his company Small Batch Assembly and to tour Nova Labs. He will be conducting his own surface mount soldering workshop, will speak about Design For Manufacturing, and will show his Pick and Place machine during the weekend.
It will be fun to visit with [Bob] and to meet everyone who can make it to the Saturday evening meetup. So far  [Mike Szczys], [Brian Benchoff], and [Sophi Kravitz] are all planning to be there. [Anool Mahidharia] will of course be there since he's leading the workshop. The following weekend [Anool] and [Brian] will both be headed to Philadelphia for the 2015 Open Hardware Summit for which Hackaday is a proud sponsor. [Matt Berggren] and [Amber Cunningham] will both be at OSH as well, talking all things Tindie.