Need a simple fab process to go from a humble vector graphic to a final part — in a matter of minutes? The CO2  laser cutter might be the right choice. As these tools open themselves up to widespread use through hackerspaces, I decided to give Delrin some well-deserved time under the spotlight.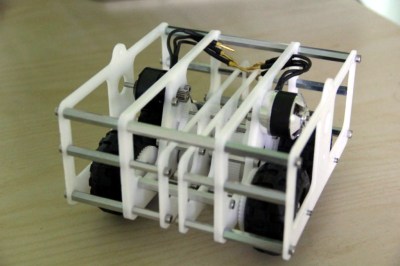 This guide is a brief collection of tips and techniques that I've either learned from others or discovered on my own over the last couple years working with laser-cut Delrin (a.k.a Acetal) for functional prototypes. I hope this guide serves you well as we keep exploring the limits of the material.
As a disclaimer, keep in mind that in no way are these techniques unique or limited to Delrin. Many are not only years old but also common practice in either engineering design or the local machine shop. This article simply highlights the techniques shown here that perform both repeatably and predictably with Delrin and a couple hand-tools, and I hope to share them with a growing audience of laser cutter enthusiasts.
Why Delrin?
I won't deny that I've seen posts about "laser-cutter techniques" before. Nevertheless, most of these past articles tend to focus on either acrylic or wood as the "material of choice," and not all of those techniques are transferable across materials. Delrin, when compared to acrylic, is far more ductile, and, when compared to wood, is a far better approximation of a continuum. These two characteristics enable a number of additional design techniques that are either impractical or difficult to accomplish with materials like acrylic and wood.
Delrin Prototyping Techniques
The Press-Fit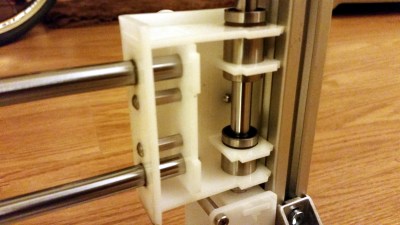 When machining metal, a press-fit between two parts necessitates tolerances tighter than ±0.0005 in. (0.0127 mm) between the mating surfaces such that the two parts that are pressed together will deform slightly and cannot separate under normal operating conditions. Delrin, because of its flexibility, is much more willing to deform to accommodate press fits. This fact is a lifesaver for hobbyist laser cutters. What this means is that even if our laser cutter has slightly less precision, we can still achieve a press fit between two Delrin parts (or just one part made from Delrin) because of Delrin's willingness to deform to the shape of another part. As a back-of-the-envelope rule, if your laser cutter can hit relative dimensions between features that are ±0.001 in. (0.0254 mm), just undersize the hole (or other press-fit geometry) slightly smaller than you would for a conventional press-fit, and the Delrin will still be able to expand and hold the part firmly.
In the image above, the linear rails are press-fit into the Delrin, which has graciously accommodated the two rails without cracking. Under normal operation, the rails will remain in place because of the compressive force of the Delrin pushing back against the rail from the outer walls of the hole. The Bearings are also press-fit.
In contrast, this technique cannot be applied to acrylic in any repeatable way. Acrylic is very brittle. Consequently, putting it under internal stresses, by trying to push a metal dowel pin (or other such parts) into a hole in acrylic will simply cause the part to split or shatter.
Countersinking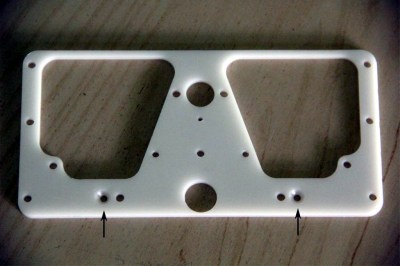 Delrin is easily machined–so easy that you don't even need a proper machine to put countersinks into your part! Below, the countersunk screw holes for GameCube-Bot V2's motor plates were done by hand with a small countersink.
Thread-Forming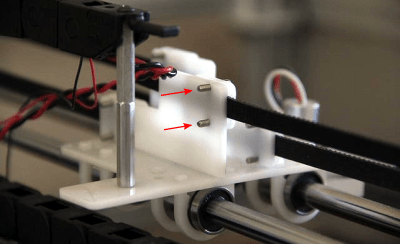 With any seasoned technique, the "gurus who came before us" have developed a tool for just the situation. In this case, the tool is a steady line of thread-forming screws, enabling us to screw directly into many materials without ever tapping. Conveniently enough, Delrin is so malleable that it doesn't even need these screws! Simply size the hole to the appropriate tap size, and screw it in by hand.
As yet another disclaimer, this technique also does not apply to acrylic and wood. Acrylic is simply too brittle to be cut or deformed by screw threads, and plywood will not thread predictably since it is a composite of many layers of wood glued together.
Snap-Fits
Delrin's ductility makes it a good candidate for snap fits involving tabs and slots. The big idea behind snap fits is that your assembly process will introduce a temporary stress on the tab such that it can pushed into the slot and then relieved once the tab is fully inserted. Acrylic might handle compressive loads just fine, but its tensile strength is very poor, making it an unreasonable choice for reliable snap-fit joints. Delrin, however, is much more accommodating for this technique.
Before you get too carried away designing arbitrary snap fits, keep in mind that there's a plethora of research and equations that go into using this technique repeatedly in mass-produced consumer goods.
The Delrin-Rubber Sandwich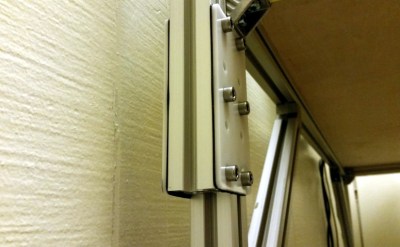 Delrin is notoriously slippery, so we should expect pieces to slide easily if they aren't secured. If we're looking to get a little more grip between our surfaces, I've had success with a thin sheet of Santoprene rubber (also laser cut) set between the Delrin and its mating surface. The resulting rubber sandwich has far more friction, especially with sufficient normal force applied via screws.
Wheels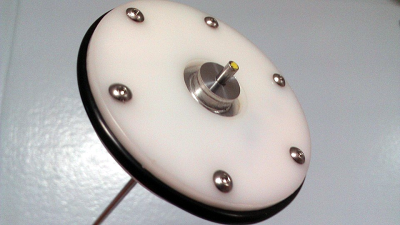 Dubbed, the "O-ring Sandwich," you too can make your own wheels in a pinch! The idea behind this technique is to sandwich three Delrin plates together, the center of which is slightly smaller in diameter, such that the o-ring has a groove to rest in. Delrin has at least twice the impact strength over acrylic (~1.2 ft-lb/in vs 0.4 ft-lb/in), making it a far better materials choice for the ups-and-downs in the terrain that these (robot?) wheels will explore. Finally, the sandwich of three plates is thick enough to overcome any of the possible flimsy drawbacks from Delrin's inherent ductility.
The image shown here has a custom aluminum hub made with a lathe, but you can also purchase hubs to do the same trick.
Gears
In "real life," Delrin has a reputation for its wear-resistance, and we can find it sold as bushings and even gears. Why let the retailers have all the fun, though? With a sufficiently high-power (60W and up) laser cutter, you can lase your own gears too!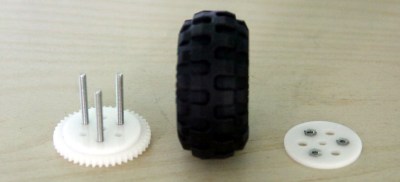 A fair forewarning: although the laser cutter can certainly cut 64-pitch teeth, odds are pretty low that the surface finish of the gear will be good enough to mesh with a properly fabricated gear of the same pitch. The taper (see the Drawbacks post that will be published after this one), coupled with the melty surface finish of the gear teeth will both negatively impact the quality of the gear–but perhaps these drawbacks aren't deal-breakers in your application, and the melty teeth are simply "good enough?"
Spring Pins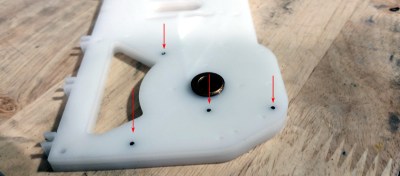 Not all laser cutters are capable of consistently cutting the thicker (.1875 [in] or greater) sheets of Delrin. Furthermore, Delrin tends to warp after being extruded. Whether you're trying to create a thicker plate or trying to straighten two warped plates by fixing them together, spring pins can assist in both endeavors. Spring pins are coiled rolls of steel that are press-fit into holes. Once installed, they hold their place by applying compression on the inside walls of the hole, making them really good for one-time installations and really difficult to remove if you messed up. To install them, I'd suggest an arbor press.
Pulleys
Remember I mentioned Delrin being slippery? Now it's time to take advantage of this fun fact and put it to work. The idea behind this technique is to sandwich three-to-four discs of Delrin together onto a shoulder screw, where the size of the hole through each disc is large enough to allow the disc to run smoothly. Alternatively, you can also replace the inner discs with a bearing, provided that you choose an undersized shoulder screw.
Tune in Next Time
That's all for this week! Check back in two weeks for PART II where I'll explore the drawbacks involved with working with Delrin (hint: you can't glue the stuff!) and how to work around them.
For the many techniques documented here, I'm greatly indebted to spending time with some excellent engineers over the last couple years. Thanks [Steph], [JB], and [Chris] for all of your pro tips that went into some of the ideas in this guide!
Lastly, for the full breakdown of Delrin's material properties, take a look at DuPont's Design Guide.