If you have a 3D printer, it is a good bet you've at least seen or heard of Tinkercad. There's pros and cons to doing your design in a Web browser, but Tinkercad is very easy to use and great for making simple objects. However, there are other 3D object designers you can use in your browser, too. Tinkercad is just the one that everyone seems to know about.
I won't talk much about Tinkercad, but if you haven't tried it, it is well worth a look. It has a simple system of drawing things and holes. When you merge holes with things you can make lots of shapes. The alignment tools are good, and since Autodesk acquired them (part of its 123d app suite), it isn't likely they will go under any time soon (which, as you may remember, almost happened).
If you are designing some great new secret invention you may shy away from cloud-based design programs. But if you are printing out key chains with your coworker's cat's name on it, do you really care? Most of these cloud-based programs will work from any computer so you can quickly do a design in a coffee shop and then go home and print it.
Programs that generate 3D objects tend to fall into two categories: visual and parametric. Visual tools emphasize drawing shapes with a mouse while parametric tools tend to make you describe what you want numerically. This is one of those things where your intuition may lead you astray. It seems like visual drawing is the way to go, right? People are visual. But most people are also inexact. If you want to lay out, for example, a front panel for a piece of custom test equipment, it is hard to get everything lined up perfectly and spaced evenly.
Sure, tools like Tinkercad have alignment and spacing tools and that's great. But for complex designs, making a change can cause a flurry of mouse activity. Professional CAD programs often combat this by allowing you to set constraints, but that's generally not easy to learn and, as far as I can tell, is unheard of in a browser-based tool (except for Onshape, as you'll see below).
The opposite of the pure visual approach is a program like OpenSCAD. You don't draw anything. You describe your shapes using something that looks like a programming language and then you can see a visual representation of it that you can't edit graphically. You might think OpenSCAD isn't a browser-based program. You'd be right, but there are several versions of it on the web. One is the aptly-named openscad.net, and it is probably the closest to the desktop experience.
If you write OpenSCAD code correctly, it is nothing to make an adjustment here or there. Need another hole in that front panel? Add it and all the other holes move to adjust. However, not everyone writes flexible code. If you just hardcode all the numbers, the result is even worse than using visual tools.
Many visual tools (including Tinkercad) give you some way to do at least some parametric inputs (hint: use the ruler and click on a dimension) which may help if you need to make, for example, holes that are exactly the same size. But setting X and Y coordinates of a set of holes so they line up and space out is still something you have to do either by eyeing it, using a one-time alignment tool, or directly entering numbers.
I wanted to gather up some of the web-based 3D design tools I know about. The list is not exhaustive, and I'm sure the comments will point out some that I don't know about.
OpenSCAD and Related
I already mentioned that a few sites provide OpenSCAD in your browser. If you are already using OpenSCAD, this is really handy when you aren't at your own computer. If you are squarely in the visual camp, though, you won't be impressed. The OpenSCAD language isn't quite a full programming language (although the newest release is getting closer). If you are a more traditional programmer, there are options like OpenJSCad or CoffeeSCAD, both of which offer OpenSCAD-like capabilities aimed more at people who actually program.
If you ever have the urge to host your own private copy of OpenSCAD on a web server, have a look at cloudscad. It hasn't been updated lately, though.
The Best of Both?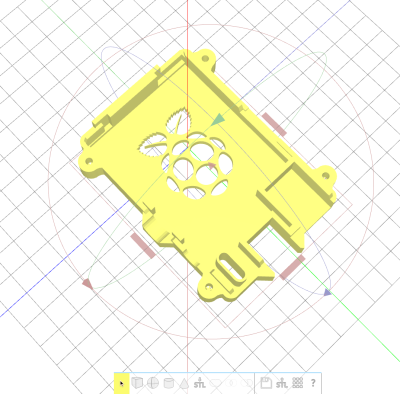 I have been very impressed with Shapesmith which is open source and runs well in the browser. What's nice is that while it is visual, there is an inspector window that lets you do direct entry of parameters easily. If you don't like creating accounts, you can try the site with no sign up at all, although you'll lose your work later if you don't create an account.
Like Tinkercad, Shapesmith lets you set a workplane. However, if it has tools to align or space objects, I couldn't find them. The picture to the left shows an STL file imported into Shapesmith and tweaked.
3dtin
I first learned about 3D Tin because it shows up in the Chrome store. It looks really nice and it is capable of drawing items for 3D printing or just doing general purpose 3D modelling. It has a bit of a quirky user interface that tries to bridge the visual and the parametric.
When you create a shape, you can enter sizes, for example, numerically. When resizing, you use a slider instead of grabbing object handles. It takes some getting used to, but it works. it does offer alignment and grouping tools, which are handy. The picture to the right shows a simple 3Dtin object.
The Full Monty: Onshape
While most of the tools in this roundup are simple to use, Onshape (currently in Beta) is a full-blown professional CAD package in your browser. If you need that kind of power, it is great. But if the term "padding a sketch" doesn't mean much to you, prepare for a steep learning curve.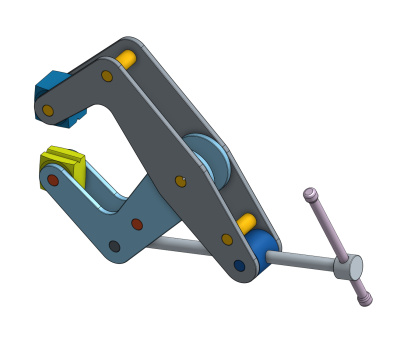 I mentioned earlier that professional CAD tools use constraints and parameters to get the same kind of effect you can get in a properly written OpenSCAD script. Onshape supports constraints and parameters. Watching their tutorial video might give you an idea of the learning curve you'd face to use this design technique. Of course, if you are accustomed to this type of modelling from other packages, you'll find Onshape very impressive for a browser-based application.
Although you can use Onshape for 3D printing, it is fully capable. The free plan gives you a limited number of private drawings but a virtually unlimited amount of public ones. The picture to the left shows a complex part in Onshape.
Breaking the Desktop
Are any of these tools up to par with a desktop solution? Depends. Onshape is pretty powerful if you are willing to take the time to learn it. OpenSCAD in the browser is pretty much like OpenSCAD on your desktop.
Perhaps the other tools do lack a few features. However, for things you commonly 3D print, any of these tools will get the job done. I know there are others out there too. Feel free to call out your favorite (or, even, your least favorite) in the comments.
Would I use online CAD for a real project? Maybe. I use online mail applications now. I also occasionally use online office applications like word processing. I think it mainly comes down to how much I trust the back end. If I own the back end (a possibility with some of these tools) or a company I trust (perhaps foolishly) owns it, and there are reasonable privacy controls in place, why shouldn't I use online tools? Besides, I don't think there's much chance of Mr. Buttons' key chain falling into the wrong hands.