Wait what? The Smog Free Project by [Daan Roosegaarde] is another one of those head scratchers where somehow art, engineering, and a designer collide — to produce what looks like an actual working concept…?
The oddly shaped white tower is essentially a massive air purifier. It's in Rotterdam this week after over 3 years of research and development. It actually scrubs the air, removes contaminates, and then compresses those particles down into small cubes, or "gem stones". Going full tilt, it will clean approximately 30,000 cubic meters of air per hour.
To help spread awareness, they then take the waste cubes and integrate them into jewelry. Essentially they're physical carbon credits!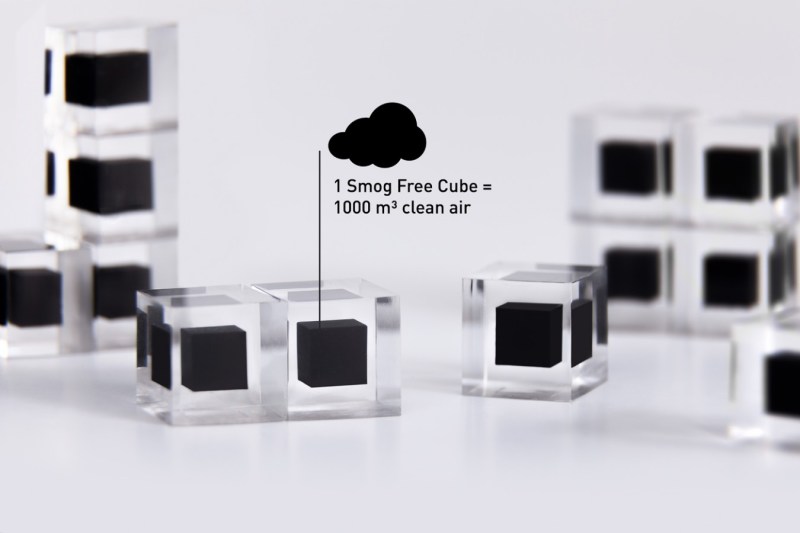 The project was originally intended for Beijing for obvious reasons, but since then has grown to become what [Dan] hopes to be a movement. So instead this odd white tower will be traveling around the globe to help spread awareness of pollution — they're using a Kickstarter to try to generate some funding to help with transportation costs. It will make it to Beijing by the way, which is where Studio Roosegaarde is located.
This is the same guy who made the glow in the dark sidewalk in the Netherlands, reminiscent of [Vincent Van Gogh's] Starry Night — which we have to admit, was actually pretty cool — replacing light posts with a ground that glows.
What do you think of the idea? We can't imagine it's very efficient, but who knows…