Friday afternoon I had the pleasure of sitting in on a surface mount soldering workshop. I've done some surface mount soldering before and am quite adept with a soldering iron, but this focused on solder paste and a hot air pencil. [Bob Cogeshall] ran the workshop and went beyond the most basic information. His experience founding Small Batch Assembly, a contract manufacturer whose offices are in the Nova Labs hackerspace, has led him to learn a lot of tricks of the trade.
The Tools
Each work station was outfitted with tools that make SMD population a breeze. Solder solder stations had both hot air pencils as well as traditional irons. We were populating boards sourced from eBay sold specifically for practicing SMD techniques. Solder paste was dispensed from syringes, with modified aquarium pumps used as vacuum tweezers.
Of course mistakes happen, and tools for that are more familiar to me. After lifting off the part with hot air and regular tweezers the pads need to be cleaned up. A syringe of flux combined with solder wick and a traditional iron make cleaning up excess solder a breeze.
One of the tools I hadn't previously used is double-sided scotch tape. Stick this to the table and then stick the SMD tape (delivery device for the minuscule parts) to the tape. You will greatly minimize the problem of knocking your components around the bench!
The Tricks
For me the best part was hearing [Bob] talk about what he had encountered and learned while building his business as a contract manufacturer who populates circuit boards of all types. Yes, he has a pick and place machine and that was a lot of fun to see, but it's far from automatic and rework is part of the process.
One of the tips I found most interesting is to make the choice between HASL and ENIG finishes on your boards based on your population needs. [Bob] finds that HASL finishes tend to vary quite at bit in how flat they are, while ENIG finish is usually very flat. It costs more for the gold finish, but if you are working with very-fine pitched parts it can make your reflow much easier because stencil-applied paste will be much more even.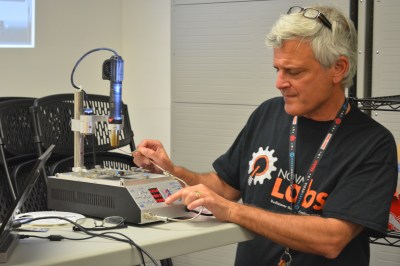 His demonstration of a hot-air rework station (which heats from the bottom with an element and the top with air) was also enlightening. Simple know-how is a huge time-saver with these types of tools. For instance, using a mounting fixture that slightly separates the board from the bottom heater gives you a larger margin of error before you begin to burn up your board. Once it is up to temperature [Bob] doesn't like to hold it there for more than 90 seconds lest the board or the components be damaged.
But mostly you don't need secrets. The right tools make the job easy: solder paste, vacuum tweezer, hot air pencil. Thanks [Bob] for putting on this workshop!
Washington DC Hackers: Meetup Tonight
Of course the reason that I'm in town and able to take this workshop is because we are hosting a Hackaday Meetup at Nova Labs near Washington DC this evening. This gets going at 6pm and admission is free to all. Check out the details here!