Electronic conference badges have been around for at least a decade now, and they all have the same faults. They're really only meant to be used for a few days, conference organizers and attendees expect the badge to be cheap, and because of the nature of a conference badge, the code just works, and documentation is sparse.  Surely there's a better way.
Enter the Hackable Electronic Badge. Ever since Parallax started building electronic conference badges for DEF CON, they've gotten a lot of requests to build badges for other conventions. Producing tens of thousands of badges makes Parallax the go-to people for your conference badge needs, but the requests for badges are always constrained by schedules that are too short, price expectations that are too low, and volumes that are unknown.
There's a market out there for electronic conference badges, and this is Parallax's solution to a recurring problem. They're building a badge for all conferences, and a platform that can be (relatively) easily modified while still retaining all its core functionality.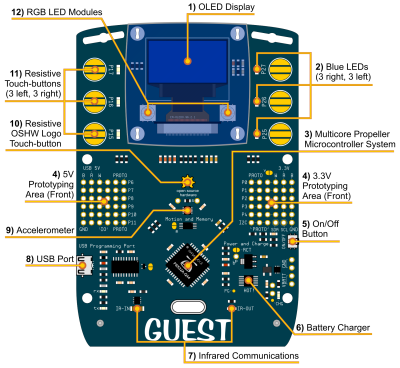 Of course, to build a multi-conference, multi-function badge, Parallax would first need customers. They found that in the Northwestern University Center for Connected Learning. [Dr. Corey Brady] and [Dr. Uri Wilensky] are studying how people interact with each other and how diseases spread. They needed an electronic badge, and the needs of researchers aligned with Parallax's desire to design an open electronic badge.
Out of this collaboration came the Hackable Electronic Badge. On board this badge is, of course, a Parallax Propeller. There's a white OLED display, accelerometer, resistive touch pads, and of course prototyping pads, should anyone want to build a quadcopter out of a conference badge. Power is provided by custom charging circuitry and a AA-sized Lithium Ion battery, giving the badge 12 to 18 hours of run time.
Hardware is just one aspect of a successful badge, and for most single-event badges the software is usually the weak point. Now that the badgemeisters have a stable hardware platform, it's time to develop a few useful applications. The first such application is something called a Contact Manager. This application uses the IR communication LEDs and 32k of the Propeller's EEPROM to store up to 500 contacts of the people you meet at your next con. Swapping contacts is as simple as uploading your contact information in one of the example programs, touching the OSHW logo, and pointing your badge at another badge. The contacts you receive are then saved in the EEPROM, and can be dumped by connecting the badge to any terminal emulator. You can check out [Ken Gracey]'s video demo of the Contact Manager application below.
The Hackable Electronic Badge will make its debut at its first conference this weekend at the Open Hardware Summit in Philadelphia. It's not a requirement for the conference – everyone gets a paper badge and a lanyard, the electronic badge will be $40 extra – but it is the first time the badge will be used at a proper con.
Because this badge will serve as the prototype for future con badges, most likely including next year's DEF CON edit: nope, this will be the first time badge hackers will get their hands on the hardware months before the event. That means badge hackers will be able to develop strange applications well before the event, and be able to reuse that code many conventions later. It may sound like cheating, but that's the entire point of a badge platform as opposed to a single-use badge; reusing code and layouts brings the cost down and the number of applications up. It also enables a good bit of badge hacking before the event; I've already put the Hackaday logo on the badge.
As would be fitting with a badge for the Open Hardware Summit, the entire thing is open source, from the Propeller microcontroller to the source code and DipTrace files. All of the files will be available here in due time.
For a single conference bade, this is a great achievement. This year the Open Hardware Summit will get one of the most advanced and capable hardware badges ever made. It doesn't end there, though, and building a platform for other conference badges really makes this project shine.