A young maker named [Allie] drew a lot of attention at the 2nd annual Omaha Mini Maker Faire. Her booth was full of the various creations she has designed and built herself throughout the course of her short life. The biggest draw was her green design dollhouse, which focuses on environmentally friendly living. With the exception of the LEDs lighting the interior, some tape, and the requisite bit of hot glue, the entire structure and its contents were made from recycled materials.
The cardboard structure features a kitchen, living room, bedroom, bathroom, and attic. Every piece of furniture and all the decorations are made from salvaged materials and packaging. One side of the roof holds a Snap Circuits board with a solar panel that powers some blue LEDs on the bedroom wall. [Allie] poured water down the other side of the roof to demonstrate the rain water collection system. The house's rain barrel was made from a grated parmesan cheese container, which is perfectly designed for the airline tubing running into it from the recycled plastic guttering.
One of [Allie]'s other projects is a disagreeable owl fashioned from cardboard and a salvaged canister. Hidden away beneath the owl's platform lies a simple gear system attached to a key on the front. Turning the key causes the owl's head to swivel back and forth. We tried to make it spin all the way around, but the full range of motion is about 270 degrees. She also brought Mountain Dew, a hummingbird model made from a spark plug and other metal bits and bobs, including a pair of soda can wings.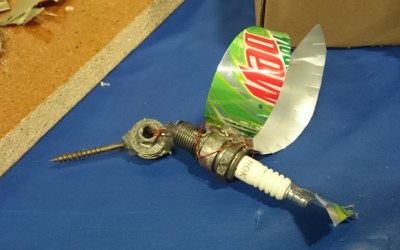 In addition to her crafty skills, [Allie] is one well-spoken tween. She was more than happy to discuss her creations in detail to anyone who would listen, which included at least two local journalists and this impressed reporter. We learned through a bit of light research that a robot [Allie] built a few years ago inspired a British toy company to produce a new doll, the Robot Girl Lottie. She's an inspiration to makers of all ages.