Atoms are small. Really small. You just won't believe how minusculely microscopically mindbogglingly small they are. I mean you may think it's a short way down the road to the chemist's, but that's just peanuts to atoms.
Atoms really are small. The atomic radius of a carbon atom is on the order of 0.1 nanometers, that's 0.0000001 millimeters. It's hard to grasp how fantastically small this is compared to objects we generally encounter, but as a starting point I'd recommend looking at the "Powers of Ten" video found below whose ability to convey the concept has been unrivaled since it was published in 1977.
The term nanometer might be most familiar from the semiconductor industry, and its seemingly unstoppable march to smaller feature sizes. Feature sizes currently hover somewhere around the 10 nanometer mark. So while these multi-billion dollar facilities can achieve 10nm precision it's somewhat surprising that sub-nanometer feature size positioning, and fabrication techniques are available at relatively low cost to the hacker hobbyist.
In this article we're going to review some of the amazing work demonstrated by hobbyists in the area of the very very small through use of cutting edge, but low cost techniques.
Nanopositioning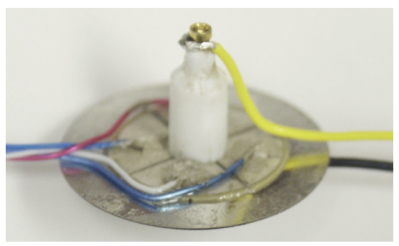 The first technique in our toolkit is sub-nanometer precision positioning. Piezoelectic materials contract in response to an applied voltage. You'll most likely be familiar with the cheap piezo buzzers in greeting cards or beepers in cheap gadgets. However, in nanopositioning their precise motion is exploited to provide positioning. These actuators often take the form of Piezo stacks or tubes formed into XYZ stages costing of 100s to 1000s of dollars. However starting with John Alexander's design, accurate actuators have been developed by hobbyists from cheap Piezo buzzers. Using these sub-dollar devices, cut into quadrants sub-nanometer precision motion can be achieved in X, Y and Z axis over about 10 microns of travel.
Atomically Sharp Tips
While being able to move things with atomic precision is great, it's of little value until you have a method of fabricating nanoscale features. This turns out to be pretty simple, by simply cutting Platinum Iridium wire while pulling it using a pair of titanium wirecutters the wire can be pinched and pulled into a sharp tip.  While this tip will be somewhat irregular, there will be one atom at the tip slightly ahead of all the others, providing a tiny nanoscale feature.
Atomic Scale Imaging and Measurement
Optical microscopes are limited by the wavelength of light and therefore at best provide a resolution of about 200 nanometers (2000 carbon atoms). There are a couple of neat techniques we can use however to make atomic scale measurements.
By combining nanopositioning and atomically sharp tips we can begin to build a scanning tunneling microscope (STM).  These microscopes scan the tip across a surface, measuring a tunneling current flowing between the tip and the surface (in general using a trans-impedance amplifier). A version of this technique was used in IBMs famous atomic resolution movie "A Boy And His Atom".
Hackers like John Alexander and Dan Berard  have successfully built these systems for 100s of dollars. Tunneling microscopes however are limited to imaging conductive surfaces. In contrast to this, Atomic Force Microscopes exploit Van der Waals forces to deflect a tip. Because of this non-conductive materials can be imaged too, which is of particular importance in biological application. Dan has begun to work on cheap methods for exploiting this technique using affordable and effective methodology.

Another measurement technique which sidesteps the optical limit is laser interferometry. In this method a laser is split and reflected off two mirrors then recombined. By moving one mirror and measuring the interference between the two beams, distances can be measured. The measurement resolution of a basic interferometer will still be limited by the wavelength of visible light. However more advanced techniques (such as looping the beam back and reflecting it twice) even allow nanoscale distances to be measured. Interferometers have also been developed by hackers on a budget using BluRay laser parts and cheap laser diodes. Among other things, interferometric measurements can help calibrate, or provide feedback to Piezo actuators.
Now, with nanoscale imaging and measurement techniques in hand, what are we going to look at?
Atomically Flat, Regular Surfaces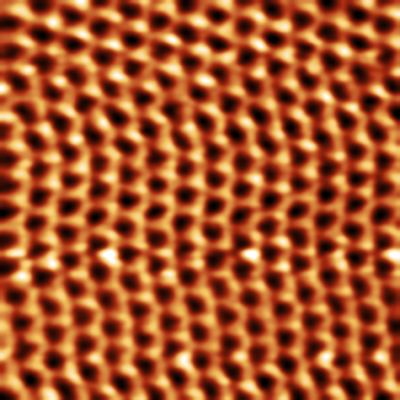 Another limitation of the scanning microscopes we've described is that they only work on flat surfaces. Turns out that nature has done our work for us here. Two popular materials are HOPG (Highly Ordered Pyrolytic Graphite) and Mica. Both materials are planar. An atomically flat surface can be cleaved off easily, most commonly pulled off using scotch tape! HOPG is conductive and regular. As such STMs produce great looking HOPG images. While this is interesting it its own right, we can also use these materials as a substrate. Molecules of interest can be laid out on the flat surface and imaged against a known background.
Atomically Thin Films
Sputtering machines can be used to apply a thin layer of material to a substrate. The technique is used extensively in the semiconductor industry to build up the layers of materials required to construct and integrated circuit. But we've also seen hackers experimenting with this technique. Like Ben Krasnow's sputtering of ITO on glass to create transparent conductive coatings. Sputtering machines require a vacuum, but this is not particularly difficult to achieve, and there's an endless variety of coatings to experiment with.
As you've seen, the past few years have laid a solid foundation in cheap techniques for nanoscale measurement and fabrication. These solutions, for the most part, have all been developed by a series of industrious hackers. We hope this inspires you to further build on their work and peer into the atomic realm! We'd like to hear from you in the comments, what kind of projects do you think will be built from this framework in the coming years?