A well-designed robot can do any action a human can do. Whether this is an acrobatic performance, or just writing with a pen, there's a robot out there for any single action a human can perform. This includes juggling, but never before has the human action of juggling been replicated at this scale. [Nathan] built a robot that can juggle seven balls simultaneously. That's more balls in the air than any other juggling robot.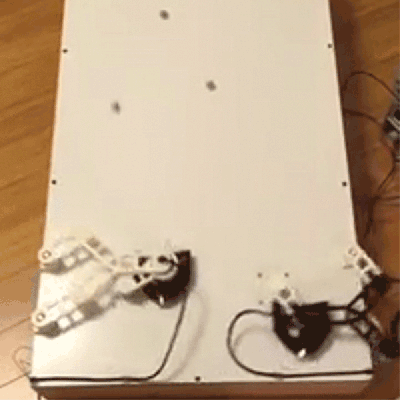 While the original plan was to build a low-cost version that could juggle balls by throwing them up in the air, this proved to be very difficult. Instead of giving up, [Nathan] simplified the problem by rolling the balls up a ramp. The entire build is documented in an imgur gallery, and there's some interesting tech going on here. The 3D printed arms are controlled by beefy stepper motors running at 60V. To stop the balls from bouncing around in the arms, [Nathan] included and electromagnet to hold the balls in place for a fraction of a second during each cycle.
Juggling seven balls is amazing, but how about eight? This is the question every builder of a juggling robot will get, and it's not quite as simple as adding another ball. The motion of juggling an even number of balls is completely different from juggling an odd number. That being said, [Nathan]'s robot does have four balls under its belt. It should probably get that looked at.
This isn't [Nathan]'s first amazing 3D printed robot, and it probably won't be the last, either: he recently built a Skittles sorting machine for the next time Van Halen comes to town. There's an amazing amount of skill in all his projects, and he's certainly an asset to the entire hackaday.io community.