A lot of great schematics wind up on the back of bar napkins or diner place mats. When inspiration strikes, you have to capture it, after all. Today, you are as likely to draw schematics on a computer and there are plenty of options for that; if you can install software your options are almost limitless. And if you have a modern Web browser, there are lots of good options that don't even require an install.
But what about those times when you need a quick schematic to pop into a presentation? You are on some ancient conference room computer where you can't install anything and it's still running a browser that understands the <BLINK> tag? Try out the Klunky Schematic Editor. Your browser will need Javascript, but that's about all. No HTML 5 or anything fancy.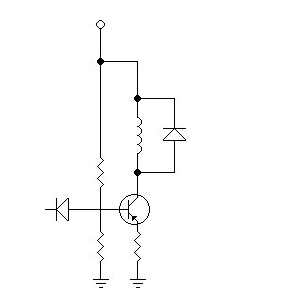 True to its name, the editor is klunky by almost any definition. Here's how it works. The top half of your screen becomes a palette of schematic symbols. The lower half has an invisible grid of squares that are the same size as the symbols (37×37). You click on a symbol and then you click below to place the symbol in the grid. You can keep adding more of the same symbol until you pick another. You can see a simple schematic created with Klunky to the right.
Erasing? Use the blank component (new components in a square overwrite the previous component). Wiring? There are wires that go across and through the corners of the squares. Rotating? Most components come in vertical and horizontal incarnations.
Saving? Do a print screen and paste it into your favorite program for cropping and adding text. You may notice the blank row at the bottom of the components. You can use the links at the bottom of the component palette to fill that row with special symbols. Logic gates, boxes, tubes, even PCB footprints. There's a complete set of instructions, but unless you intend to use the thing seriously, you probably won't need them.
If you have even a slightly more powerful computer and browser, you could try something like Schem-it (see the video below) or EasyEDA. Or maybe  you'd rather install KiCAD or another real schematic capture package. But despite being klunky, Klunky Schematic Editor can be surprisingly useful.