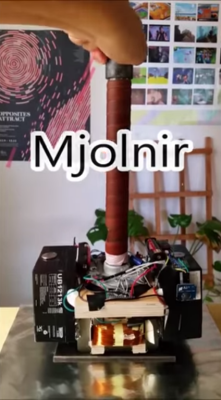 Only those who have completely insulated themselves from modern pop culture will miss the meaning of a Mjolnir build. It is, of course, the mythical hammer wielded by Thor, and only Thor. It's a question of being worthy; a question solved perfectly by this electromagnetic Mjolnir build.
Using an electromagnet is smart, right? Just plunk the thing down on something metal (that is itself super-heavy or well-anchored) and nobody will be able to pick it up. It starts to get more interesting when you add a fingerprint reader, allowing only Mjolnir's Master to retrieve it from atop a manhole cover.
But for us the real genius in the build is that the hammer isn't burning power from the four 12V batteries most of the time. All of the people in the video below could have picked up the hammer had they first nudged it off the metal plate with their foot. The build uses a capacitive touch-sensor to enable and disable the microwave over transformer used as the electromagnet. An engineering trick like this really separates the gods from the posers.
We hate to admit it, but this is probably a cooler build than the Telsa-Coil powered Mjolin that [Caleb] built a few years back. Still, his held up as the best for many years, and if you're going to be displaced this really is a build worthy of the new title: coolest Mjolnir hack.