Akihabara, Tokyo has transformed over the years. In its present form Akihabara emerged from the ruins of a devastated Tokyo after World War 2 when the entire district was burnt to the ground. The area was rebuilt in the shadow of the Akiba Jinja (dedicated to the god of fire prevention), and a new breed of street vendors began to appear. Huddling under the protection of railway bridges, and dealing mostly in Black market radio parts, these vendors set a new tone to what would become Japan's "Electric Town". And as Japanese manufacturing prowess grew so too did Akihabara.
Now of course Akihabara is also home to Otaku culture, and is perhaps best known in this regard for its maid cafes. Streets are littered with maids touting their cafes, somewhat incongruously among computer outlets and precision tooling stores.
My interests however lie squarely in Akihabara's glorious junk bins. Of all places I think I'm happiest  digging through this mass of discarded technology from Japan's manufacturing past.
A tour through the junks bins is like an archaeological dig. And in this article I will present some recent finds, and ponder on their relevance to Japanese manufacturing.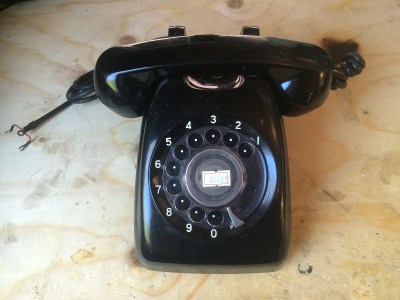 The posterboy of early Japanese consumer electronics is the transistor radio. Unfortunately, these are increasingly hard to find in Akihabara and never in the junk bins. The oldest piece of consumer electronics I've discovered discarded, and largely unloved is this 1960s telephone.
The phone cost a rather extortionate 1980 Yen (16USD). There are some great sites by Japanese collectors documenting the various colors and configurations of these handsets.
By the 1960s Japanese economy had well and truly boomed, having grown to the second largest in the world. Japan was pumping out transistorized consumer electronics. Companies having acquired licenses from AT&T for their production.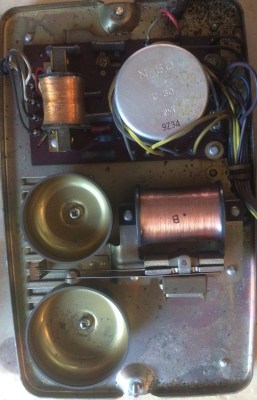 This telephone of course uses purely passive components, but still bears some of the marks of miniaturization that came with this era of electronic development. The image to the right shows the phone's internal layout. Particularly in contrast with a British design of the same era. Amazingly, and a testament to international standardization, I was still able to make a call with this phone. 6000 miles away from its intended point of use, and 55 years later the pulse dialing system still works on British Telecom's network.
SuperJunk
Our next item I found in the aptly named "SuperJunk". One of my favorite junk shops. Superjunk carries an assortment of passive and active components including discarded SMD reels. Along with this, more traditional, surplus Superjunk also hosts a small pile of curios. And this is were I found the Vidicon camera shown below.
With the widespread adoption of CCD and CMOS imaging ICs Vidicons have long been forgotten. But for many years Vidicon tubes were the only way of electrically acquire images. A vacuum tube has a flat photoconductive surface. And electron beam is scanned across this surface, much like a CRT TV in order to measure the conductivity across the surface and acquire an image.
This tube bares the Matsushita Electric Industrial Co. brand. A company now better known as Panasonic.
The Vidicon camera represents a relic from the full analogue world of 70s and early 80s electronics. Akihabara is littered too with abandoned digital cameras (like this Ixy 60). But they add little to our manufacturing story. More interesting perhaps are those items produced right at the cusp of the analogue to digital transition.
Forgotten Digital-ish Formats
Junk shops like Hardoff are full of discard Laserdiscs. While you might think of Laserdiscs as purely "big CDs" they are actually a very different technology. Like CDs, the information was encoded using pits read by a laser head. However, the video encoding mechanism used a form of pulse width modulation, encoding and reproducing a purely analogue signal.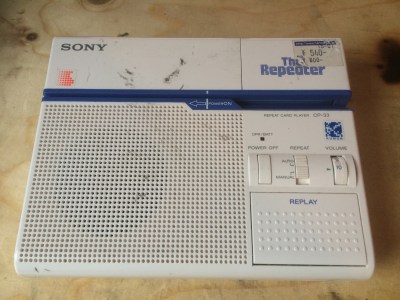 Hardoff was also home to our next item. Another hybrid analogue storage/digital playback device called "The Repeater".
When I first bought The Repeater I had no idea what it was. A curious slot appeared to accept a magswipe card, but I had nothing much else to go on. After some headscratching I deduced that the device plays back analogue audio encoded on a magswipe card. It appears that special flashcards were sold as a learning aid. Swipe a card on which a question is printed and the device will playback an audio recording of the answer. The Repeater is interesting to me because the audio is stored as an analogue recording, which is immediately digitally sampled by the device for playback (so that it can be repeated if required). This is really the only point in time when this approach would have been taken. Digital systems not quite cheap enough for storage, but able to effectively manipulate and playback datasets with ease. In the video below, you can observe this technological curio in action:
The Repeater is also notable as the last piece of consumer electronics on our junk bin trawl manufactured in Japan. These days the vast majority of consumer electronics for sale in Akihabara are manufactured (and often designed) in China. And while the transistor radio was emblematic of the rise of Japanese consumer electronic manufacturing, I found it impossible to find a single new consumer radio in Akihabara manufactured in Japan.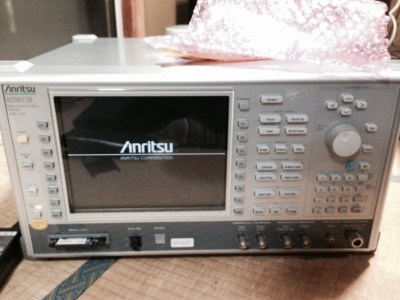 Test Equipment
Outside of consumer electronics Akihabara is home to test equipment store Keisokuki Land. Here you can find both domestic and foreign surplus test equipment often at very low prices. To date I've picked up and repaired 3 500MHz +5GS/s oscilloscopes for on average 200USD. All faulty in some way, but easy repairs.
Sometimes more curious pieces of domestic equipment pop up too. Like the Anritsu communications analyzer shown to the right. It's a bad sign for Japanese manufacturing perhaps, that these high performance items seem to get sold off very cheaply, with little local demand.
Akihabara has shifted focus over the years, and Japanese manufacturing is no doubt currently in decline. But Akihabara still feels strong and vibrant. There's a love of technology, for technologies sake here that I've seen nowhere else. While the markets of Shenzhen now dwarf Akihabara a thousand fold, Shenzhen is all business. Akihabara is filled with Otaku driven by the desire to hack. One can only wonder what the future will bring.