Despite the title, there's no religious content in this post. The Hell in question is the German inventor [Rudolph Hell]. Although he had an impressive career, what most people remember him for is the Hellschreiber–a device I often mention when I'm trying to illustrate engineering elegance. What's a Hellschreiber? And why is it elegant?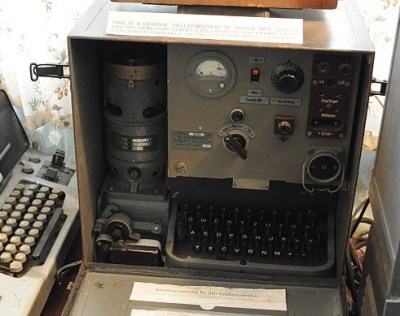 The first question is easy to answer: the Hellschreiber is almost like a teletype machine. It sends printed messages over the radio, but it works differently than conventional teletype. That's where the elegance comes into play. To understand how, though, you need a little background.
Giant Brains and Porn
You don't hear it as much as you used to, but there was a time when people called computers "electronic brains." In the 1970's, RCA had a recruitment ad that stated (if I recall correctly): "The best electronic brains are human." That slogan made a big impression on me, and I've found it to be true in many cases.
You don't have to look far to see examples. Phones have become pretty good at speech recognition, but little kids are at least as good. Computers can write novels, for instance, but humans do better. Even in places where computers can do better than us, like chess, it takes a really big computer.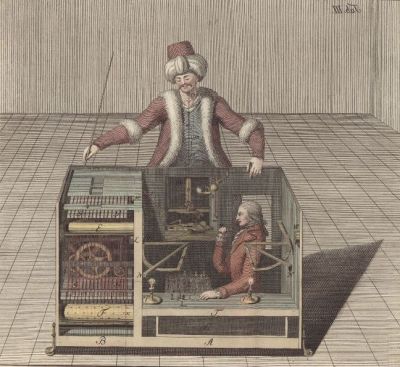 Of course, our computers are superb at some things that we aren't good at doing. That's why, to me, the most elegant systems use the strength of the computer along with the power of the human brain. One of the strangest examples of that is Amazon's Mechanical Turk service. The Mechanical Turk (seen at left) was a famous 18th-century fraud that appeared to be a chess playing robot. It was actually a puppet operated by a chess playing man.
That's not elegant at all. However, Amazon's service allows companies to get human services from people in exchange for small payments. For example, suppose you have a photo sharing site, and you want to filter out pornographic images. As the U.S. Supreme Court's Justice Stewart said:
I shall not today attempt further to define… ["hard-core pornography"]… But I know it when I see it…
It is difficult (or maybe impossible) to write a computer algorithm to classify pictures correctly as pornographic or not with no false positives or negatives. However, just about anyone could look at a picture and press a yes or no button and be right just about all the time. That's the kind of thing you can farm out to the Turk service. The computer is good at transmitting and storing images. The human is good at classifying them.
So the Hellschreiber is Porn?
No, the Hellschreiber is not porn (unless you transmit the text of "50 Shades of Gray" with it, I suppose). However, it is an elegant use of the computer/human symbiosis. Think about a conventional teletype. A five- or eight-bit code modulates a radio signal (usually via frequency shift keying). The receiver notes the frequency shifts and reconstructs the code to determine what the message is.
That's great if the link between the transmitter and receiver is a quiet wire. When the connection is via noisy radio, that's different. Today, we can use digital signal processing to get better results than ever. We could put in sophisticated forward error correction codes, and we could use more robust modulation. But this takes more hardware that wasn't available in Hell's day. If a static crash or fading took out a bit, the result was a garbled message.
Humans are pretty good at recovering messages. If I wrote:
The ouick brown fox jumps over the l!zy red do8.
You can probably figure that out. You've seen the social media meme (to the left) where a message jumbles letters, and you can still read it. But in both cases, those messages still resemble the original message (and you sort of know what to expect them to say). If you got the message:
Meet me at the ($sdfk82.
Looking at this message, you probably can't figure out my meaning. With a Hellschreiber, you have a better chance. Why? The Hellschreiber is like a cross between a teletype and a FAX machine. The device sends pictures of the letters, not codes. Not too surprising when you realize that Rudolph Hell had a background in television. Your brain can more easily unscramble a picture than a code that was randomly changed by noise.
Actually, the machine sends two images of the text to help in recognition. Noise or phase differences may make it a little hard to read, but it has to be very bad for the wetware between your ears to not be able to make sense of it. You can see a sample below:

The machine uses a 7×7 grid to form the letters. The characters are only sent once, but printed twice. As you can see, sometimes (due to timing errors) both lines are visible. Other times, one line is legible in the center and the other line appears chopped off at the top and bottom.
Modern Hell
Hams still use Hellschreiber as a communication tool. Today, of course, the mechanical machines are gone, and you use software with a sound card. Using software allows wide variation of character sets and even gray scale as an enhancement. You can see an example of some QSOs (ham-speak for contacts) using Hellschreiber in the video below.
Granted, digital modes that use forward error correction and other sophisticated methods can use the power of the computer to (usually) ensure error-free transmission. But Hell's invention is a great example of why RCA said the best electronic brains are still human.
As designers, we are often in love with the machine parts of our design. However, a good system may be able to integrate human intelligence with the machine and surpass both.