CES, the Consumer Electronics Show, is in full swing. That means the Hackaday tip line is filled to the brim with uninteresting press releases, and notices that companies from the world over will be at CES.
3D printing has fallen off the radar of people who worship shiny new gadgets of late, and this is simply a function of 3D printing falling into the trough of disillusionment. The hype train of 3D printing is stuck on a siding, people are bored, but this is the time that will shape what 3D printing will become for the next ten years. What fascinating news from the 3D printing industry comes to us from CES?
Makerbot gets a new extruder
Two years ago, Makerbot released their fifth generation of 3D printers at CES. These printers were not open source, and Makerbot was called a traitor by the community that contributed most of the technology that went into these models of printer. 2015 was not a good year for Makerbot – they had two rounds of layoffs, cutting their staff by 36% and shuttering one of their offices.
The fifth generation of Makerbots included a Smart Extruder – a subassembly responsible for drawing filament into a heated chamber and squirting it out onto a build platform. In every RepRap and consumer 3D printer, an extruder should not fail. Makerbot's Smart Extruder had a mean time between failures (MTBF) of somewhere between 200 and 500 hours. This Smart Extruder was, by any measure, a complete failure, the basis for a lawsuit, and will come to be known as the beginning of the end for Makerbot.
This year at CES, Makerbot has released their update to this failure of a product. It's called the Smart Extruder+. The price is now $200, an increase of $25 over the earlier model. The extruders have been tested for, "over 700 hours", with 90% of test units printing successfully after 1200 hours. According to the video released with the introduction of the Smart Extruder+, the new extruder was tested for 160,000 hours across several machines. This should be enough to determine a MTBF, but no data no data that could be used to determine how long one of these extruders lasts has been released yet.
Ultimaker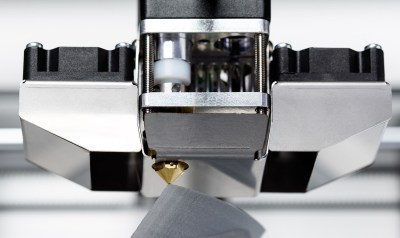 Moving on to companies you should support, Ultimaker released an update to their very popular Ultimaker 2 printer. The Ultimaker 2+ and Ultimaker 2 Extended+ both feature a hotend based on the Olsson Block. This heater block allows anyone to change the nozzle in 20 seconds. A readily changeable nozzle isn't a feature commonly seen in consumer 3D printers. The technology has been around forever in the RepRap world, consumer 3D printers have been slow to pick up on the potential of swappable nozzles. It is an interesting device, though; by swapping out nozzles, the user can choose to optimize for detail or print speed.
Additionally, the Ultimaker 2+ features a better, more powerful geared feeder. Flexible filaments are all the rage, but these were difficult to use with the older style of feeder. The new feeder allows for more torque or less clamping pressure; it's a finer level of control than what was previously offered.
You can check out the video for the Ultimaker 2+ here.
Lulzbot
The hardware news from Lulzbot is an improved Dual Extrusion Tool Head. No, it's not a 1.75mm extruder, but that really doesn't matter anyway; for one reason or another the 3D printing market has settled on two different sizes of filament, each with about 50% market share. I would love for an economist to explain that.
Luzlbot is also showing off their edition of Cura, and announcing a partnership with colorFabb, Proto-pasta, and Chroma Strand Labs to put cool and exotic filaments in these machines.
The big news from Lulzbot has nothing to do with hardware, software, or consumables. Lulzbot is going gangbusters. Their revenue is now more than what Makerbot's was in its prime, they now have more than 100 employees, and they're setting up a fulfillment center in Australia. They're doing great, and it couldn't have happened to cooler people.
3D Printers Are Getting Cheap
XYZprinting is the creator of the da Vinci, a $500 offering that follows the Gillette model: sell the printer cheap, make your money selling replacement filament cartridges. In 2014, a $500 printer was cheap. Now, they're making them even cheaper. XYZprinting released the da Vinci Mini, a filament-based printer with a 15cm cubed build area. The da Vinci Mini has an MSRP of $269.
The UP mini 3D printer will be upgraded to the Up Mini 2.
3D Systems is introducing a direct metal 3D printer. The ProX DMP 320 uses laser sintering to create objects out of titanium, and stainless steel using a 500 Watt laser. How much is it? If you have to ask…
A few years ago, Monoprice made an entry into the 3D printing market with a clone of a clone of the Makerbot Replicator. It was, and still is, a good printer that sells for about $650. Now, Monoprice is introducing a $300 filament-based printer with the Maker Spark 3D (press release with few details). They're also releasing a resin-based printer for $300. The Monoprice resin printer uses either a DLP projector or a laser – the press release isn't clear on which. There's also a $1000 CNC mill coming from Monoprice.