New FAA rules are making radio-controlled aircraft a rough hobby to enjoy here in the USA. Not only are the new drone enthusiasts curtailed, but the classic radio-controlled modelers are being affected as well. Everyone has to register, and for those living within 30 miles of Washington DC, flying of any sort has been effectively shut down. All's not lost though. There is plenty of flying which can be done outside of the watchful eye of the FAA. All it takes is looking indoors.
Living Room Flights
When flying sorties in the living room, a rotary wing aircraft is your best friend. Back in the 90's, I used to dream of a quadcopter which was small enough to fit in the palm of my hand. Today, thanks to motor and battery advances, they're everywhere. You can buy a palm-sized quadcopter at your local mall for under $20 USD. Many of these are based on the Cheerson CX-10 design, which weighs in at a miniscule 11.9 grams. These are actually great flying quads, with 3 "skill levels" which actually translate to transmitter stick sensitivity changes. The only downsides to them are flight time and orientation. Beyond 10 feet or so, it's easy to lose orientation with an object barely an inch on a side. The on-board LEDs help with this, but eventually the red and blue blend into a purple blur.
For those learning to fly indoors with a multicopter, or just looking for something a bit bigger than the CX-10, I always recommend the Hubsan X4. The larger size makes them easier to see, and a bit more stable. You can even pick up a prop bumper, which will ensure the props never hit the walls, windows, people, or anything else fragile. These little props do sting a bit if they catch skin, but they don't have enough mass to do any real lasting damage.
The tinkerers and hackers out there will be happy to know that some of these tiny quadcopters are hackable. Some commercial quadcopters can be hacked with BradWii, a port of the Multiwii quadcopter software. You can even start from scratch, buying individual parts and 3D printing a frame. Check out Micro Motor Warehouse for some great info on this option.
Indoor Meetups and Competitions
Model aircraft enthusiasts have been flying indoors just as long as they have outdoors. In colder climates, clubs often work with local schools or community centers to get weekly access to an indoor space. Any building with a large open space becomes a flying site. There are plenty of commercial planes available to fly indoors. A great example is the Vapor. Stunt planes capable of 3D flight are also common. Helicopters, tricopters, quadcopters, even the odd gyroplane or ornithopter can also be found at these indoor meetups. It's not hard to find your local flying club – in the USA, just check the AMA club search page. If you strike out there, check Google.
The model plane folks haven't just been flying all these years. Many of them constantly push the envelope. Lower weight, smaller size, longer flight time, and I'm not just talking about radio control. Rubber powered airplanes invoke images of balsa toy store planes. The competitive indoor crowd has evolved from there to F1D, which is the indoor duration competition class. Impossibly light free flight planes that can fly for an hour or more without any user input – all powered by a few turns of a rubber strip. Seeing is believing with these planes, and the flight test folks have a great video with [Joshua Finn], an F1D record holder, that explains it all.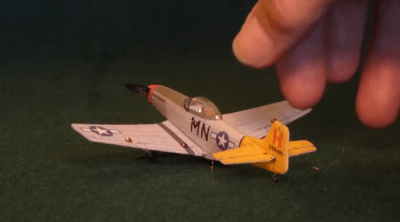 The R/C plane groups have also produced some incredibly tiny craft. How about a fully functional 3 channel (Throttle, elevator, rudder) plane that weighs in below 1 gram? The secret sauce is in the servos – or lack thereof. These planes fly with actuators, which are nothing more than a couple of coils of magnet wire and a tiny neodymium disc magnet. Passing a current through the wires causes the magnet to twist. PWM allows the current and thus the amount of twist to be controlled. Some careful building techniques allow this simple motion to be coupled to the plane's control surfaces. In many cases, the electronics are either custom-made, or come from small online shops like Micro Flier Radio  Folks like [Martin Newell] have come up with impossibly small, incredibly light flying machines using these techniques. Each one is a work of art.
Off to the Drone Races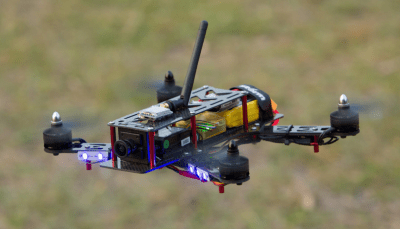 Those who feel the need for speed have discovered FPV drone racing, one of the newest aspects of the hobby. Racers are usually 250 mm class (and smaller) quadcopters running 5-inch propellers. At full speed these craft are way too fast for the average gym. However, plenty of racers have set up courses in local parking garages. The hard part here is making friends with the property owner. I'd recommend showing him the drones – and offering to let him or her have a "fly along", watching on a second pair of video goggles. Who knows, they might be bitten by the R/C bug and join the races.
Desktop Pilots
If you really want to burn holes in the sky, and aren't interested in indoor flight, there is always the simulator option. Radio control modelers have been flying from their desktops since the 1980's. Modern simulators can utilize a computer interface, which ties a modelers transmitter to the PC. This makes the experience even more immersive. Commercial offerings like Real Flight and Phoenix are the most popular, though there are freeware offerings as well, such as FMS. There are even full featured mobile apps on android such as FPV Freerider which allow you to get in some stick time away from home.
These sims really shine when you're first learning to fly. Training your brain to instinctively handle things like nose in flight takes time and practice. The simulators offer a crash free (or is that free crash?) way of doing that. Tipping over an R/C helicopter is expensive – both in money and time. Tipping over in the sim is fixed with a click of the mouse. Keep an eye on system requirements when looking at this software. Everything is going toward photorealistic scenery, so these programs can use high-end gaming cards if you have them. If you aren't a card carrying pro gamer, turning the details down and flying on a lower-spec machine will certainly get the job done as well.
So no matter what happens with the FAA or other governing bodies, get out there and do your best to fly every day, even if it's only a couple of laps around your living room.