Comedian Steven Wright used to say (in his monotone way):
"We lived in a house that ran on static electricity. If we wanted to cook something, we had to take a sweater off real quick. If we wanted to run a blender, we had to rub balloons on our head."
Turns out, all you need to generate a little electricity is some paper, Teflon tape and a pencil. A team from EPFL, working with researchers at the University of Tokyo, presented just such a device at a MEMS conference. (And check out their video, below the break.)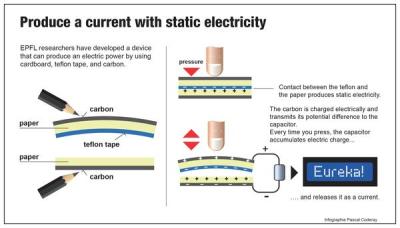 You probably won't get enough juice from their device to run your blender, but it does have applications in generating power for efficient wearable devices. What Steven Wright was doing uses the triboelectric effect — a fancy name for rubbing two insulators together to electrically charge them. In the EPFL device, the paper and the Teflon are insulators. The pencil graphite acts as a conductor to carry the charge away. The interesting part is this: by using sandpaper imprinting, the researchers produced a rough surface on both the tape and paper, increasing the charge-producing area. Empirically, the output went up over six-fold. A capacitor steadies the electrical current since the device outputs in bursts when the paper and tape come into contact.
Pushing the paper and Teflon sandwich as seldom as 1.5 times a second produced enough power to drive tiny sensors. The device is about three inches by one inch and can generate up to three volts. You can learn more in the video below where you'll see the device operating a small LCD, and there is enough detail that you should be able to duplicate the device.