We live in a world transformed by our ability to manipulate the nucleus of atoms. Nuclear power plants provide abundant energy without polluting the air, yet on the other hand thousands of nuclear warheads sit in multiple countries ready to annihilate everything, even if it's not on purpose. There are an uncountable number of other ways that humanity's dive into nuclear chemistry has impacted the lives of people across the world, from medical imaging equipment to smoke detectors and even, surprisingly, to some of the food that we eat.
After World War 2, there was a push to find peaceful uses for atomic energy. After all, dropping two nuclear weapons on a civilian population isn't great PR and there's still a debate on whether or not their use was justified. Either way, however, the search was on to find other uses for atomic energy besides bombs. While most scientists turned their attention to creating a viable nuclear power station (the first of which would only come online in 1954, almost ten years after the end of World War 2), a few scientists turned their attention to something much less obvious: plants.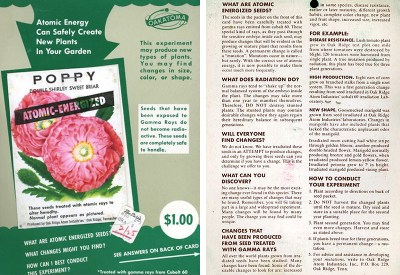 Normally the way that evolution works is that, by random chance alone, a gene changes in a way that helps that species survive and procreate. Genes are modified all the time, whether by errors copying genes or from external causes, and most of the mutations are harmless or can be repaired by the organism. Even then, unless the mutation occurs in the reproductive cells, the change won't be passed on to offspring. So, evolution occurs extremely slowly on the very rare chance that a mutation occurs in a reproductive cell that is passed on to offspring, and that gene is beneficial to the organism in a way that allows it to be passed on further.
The "external cause" is the interesting part here. Usually, the external cause is ionizing radiation (although there are other methods outside the scope of this article) and unless it kills the cells there is a small, small chance it may introduce a useful mutation. The Atomic Garden enthusiasts, such as C.J. Speas and Muriel Howorth, realized that atomic energy could be used to speed along the "useful mutation" process, and set about irradiating as many plants as they could get their hands on in order to cause as many mutations as possible. Presumably, many plants were harmed in this process.
The idea that Speas and Howorth (the founder of the Atomic Gardening Society) had was that irradiated plants might change the world by producing plants that were more resistant to disease, produced more consumable food, or grew faster. This latter trait was demonstrated in England by Howorth. After throwing a party in praise of these new cultivars, she encouraged her guests to eat some of the peanuts that were produced in an atomic garden. Her guests were impressed, but didn't eat them all. Howorth decided to plant the remaining peanuts to see how they would grow, and found that they grew like "magic beanstalks". Journalists came from all around England and praised her peanut plants as "the most sensational plants in Britain."
It's interesting to note the excitement of the time for this novel use of radiation. Contrast this with today, where most of the press concerns themselves with reporting on nuclear disasters, nuclear protestors, and general armageddon caused by nuclear energy. Indeed, without the work of Speas and Howorth and the enthusiasm for nuclear energy that they and many of the time had, it's likely that radiation gardening would have been a forgotten science experiment of the 1950s.
In what is likely the only surviving radiation garden remaining today, but is similar to what was done in the 50s, a radiation source (in this case, cobalt-60) is placed in the center of a circular field. Various plants are placed around the pole at varying distances in an attempt to introduce useful genetic variations. Once one is found, that plant is bred back with a non-irradiated plant to cultivate the desired trait in future generations of plants. This breeding process ensures that we're not eating irradiated grapefruit, for example, and also ensures that we can continue to produce the gene in a controlled manner instead of hoping to get a delicious piece of fruit every time we set a plant down beside a block of radioactive cobalt.
There are many thousands of breeds of plants in existence today because of radiation gardening. They may have been gifted with the ability to withstand pests such as fungus or insects, or they may have produced a more desirable fruit or a higher yield. There may even be plants alive today with mutations caused by radiation that we don't know about, thanks to some members of the Atomic Gardening Society simply selling irradiated seeds to the general public in the late 50s.
Now, of course, scientists have the ability to splice specific genes directly into an organism which is a much more controlled and reliable way of introducing new traits to an organism. Not only that, but it allows for a greater range of possibilities like adding DNA from bacteria into a plant to increase it's resistance to pests. Radiation gardening has fallen out of favor for other methods such as the use of a gene gun, which allows scientists to literally shoot genetic information from one source into the cells of another organism. This is a much cheaper way as well, as it doesn't require an entire field (and a presumably expensive radiation source), and it can be done on any organism instead of only on plants. They can also be used in other ways, such as delivering DNA vaccines and helping to research neurodegenerative disorders.
For the technology available in the 50s, however, radiation gardening was the best way to go about introducing new traits into crops. Even though by today's standards we'd consider it more of a "spray and pray" method of introducing beneficial mutations to a crop, it was enthusiastically received at the time and delivered results, many of which we still eat today. Indeed, without the efforts of the scientists who hacked a biological system with an energy source, we would likely have a larger problem feeding the rapidly increasing population than we do today.