Delrin, Acetal, and its many trade names is a material properly known as Polyoxymethylene or POM. It is one of the strongest plastics and is a good go-to material when you want the best properties of plastic, and don't need the full strength of a metal part. It was originally formulated to compete with Zinc and Aluminum castings after all.
I won't go too deep into the numbers behind POM. If you need the Young's Modulus, you probably don't need this guide. This is intended to be more of a guide to its general properties. When you're looking for something to fit an application it is usually easier to shift through the surface properties to select a few candidates, and then break the calculator out later to make sure it will work if you're uncertain about the factor of safety.
The most popular property of POM is its ease of machining. While doing this research every single site I came across referred to it as the most machinable plastic. That's about as objective as subjective praise can get. It doesn't tend to grab tools like, for example, HDPE. It also chips nicely unlike UHMW and Nylon. Some plastics, like UHMW, have the unfortunate tendency to render the dials on a mill or lathe meaningless as the plastic deflects away from the tool. POM does not do this as much. Of course these other plastics have their strengths as well, but if any plastic will do, and you're machining, POM is a very good choice.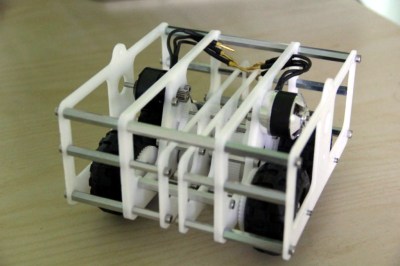 POM also laser cuts extremely well. We have a two part series all about it. Part 1: Drawbacks of Lased Delrin and How to Slip Around them. Part 2: How to Build Anything With Delrin and A Laser Cutter.
POM in many ways behaves like brass than compared to other plastics. It's naturally stronger and stiffer than other plastics. It has low thermal expansion. It doesn't absorb a lot of water, and therefore stays dimensionally stable better than Nylon. POM is also very hard and abrasion resistant. It doesn't suffer from as much creep; which is the tendency for a material to stay bent if left under a stress for too long. You could make a plastic spring or compliant mechanism and expect a useful service life, as long as the mechanism rests in the sprung state.
Surprisingly, Delrin != Acetal
I once got in an argument with someone about whether or not Delrin and Acetal were the same material. I thought they were the same, I ended up being quite wrong. Acetal refers to the pattern and shape of the molecule that makes up its building blocks. Delrin, is an acetal homopolymer unless otherwise specified by Dupont. When you buy acetal without a trade name attached, you are usually purchasing acetal copolymer. These are the two most common names for POM, but there are other formulations out there under different branding and it will take some research to figure out what you are buying.
There is a mechanical difference between homopolymer (Delrin) and copolymer (Acetal). Delrin has a higher melting point, is a little stronger, and has a few other slightly more initially desirable properties. The homopolymer is less uniform throughout its cross section. In thicker sheets, blocks, or rods of homopolymer, there will be little bubbles causing a less dense area which formed as part of the manufacturing process in the center. If you are machining a small hole through the center of an extruded rod of POM, the copolymer may be a better choice in this case. The name brand is usually more expensive. The copolymer is a little more elastic as well, but if you're pushing the plastic hard enough to see this difference it may not be a good fit. It is possible that the copolymer will have better stability over a longer service life. Unless you are doing fancy stuff, just buy the cheapest, over engineer it, and it probably won't matter which one you choose.
Impervious to Common Solvents
POM is resistant to chemicals. It is generally unaffected by solvents, fuels, etc. I couldn't find a common lubricant that would damage it. Here's a really big and immensely useful list of things that will damage it (and some other plastics). For example, chlorine is pretty bad for it. It has stabilizers to help, but it isn't impervious. So if you're testing your underwater ROV in a heavily chlorinated pool; your POM propeller may suffer a failure after enough exposure. It has an excellent resistance to beer, for what that's worth.
One huge advantage to POM is its high lubricity. POM is often mistakenly said to have self-lubricating properties. However, it simply has a high abrasion resistance and a very low coefficient of friction, making it appear to be self lubricating. POM can benefit from correctly chosen lubricant. Properly lubricating a load bearing POM part will lengthen its service life. A dry lubricant like Moly or Graphite will work. Also a Teflon based grease such as Super Lube is a good choice. You can also purchase it with exotic fillers like Teflon or Moly, in which case it will be self-lubricating for a much higher price.
My preferred place for purchasing POM is auction sites like eBay. The prices are usually better if you're willing to give up on guaranteed accurate tolerances and formulations. However, if I want to be sure about getting brand name plastic or a specific formulation I'll buy from a distributor to be sure of getting the material I'm asking for.
Keep Away from Flame
One big downside to POM is flammability. POM is not-self extinguishing. So once it starts burning it will continue to do so until oxygen is taken away from it. The flame can be colorless and with little smoke. A simple Class A extinguisher will put it out. If your application could get uncomfortably on fire, choose a self extinguishing plastic like PVC or ABS with a UL rated flame retardant for your application range mixed in (making it self-extinguishing). Even though POM is a good dielectric, it is probably not a good choice for a lot of sparky electrical applications.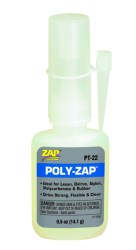 Another downside is a result of its upside. Due to its solvent resistance and high lubricity you can pretty much give up on adhering anything to it. Glue, Paint, Stickers, etc. All of them will have a hard time sticking to POM. There are some glues that claim to adhere to POM, such as Zap Poly-Zap. Even with these special glues it is recommended to sand both surfaces before gluing and to expect a weak bond. A silicone based adhesive has also been mentioned to have similar success to specially formulated CA. If you break your POM part or want to do a two part assembly it's just not possible
If you need POM in a color other than black and natural, it has been reported to dye well. Just like with nylon, any regular technique for dying should work and give a good, if subdued, color. However, if you are building something that is rated for an engineering application it's good to call the material supplier to see if they have a color solution. Some dyes may have adverse effects over time on the performance of the plastic.
I've used POM in projects and always found it to be a dream to work with. It's one of my favorite materials. When I'm in doubt and need to try out an idea I like to reach for it, and it's cheap enough to keep a small stock. If you have useful information, an error to point out, or anecdotes to add please do so. I'm excited to learn more.
Featured Photo By Pierre, CC