A couple of weeks ago we covered the launch of the Odroid C2, a single board computer from the Korean company Hardkernel in the same form factor and price segment as the Raspberry Pi 3. With four ARM Cortex A53 cores at 2GHz and 2Gb of DDR3 on board it has a paper spec that comfortably exceeds that of the Pi 3's 1.2GHz take on the same cores and 1Gb of DDR2. This could be a board of great interest to our readers, so we ordered one for review.
The parcel from Korea arrived in due course, the C2 in its box inside it well protected by a sturdy cardboard outer packaging. We had ordered a couple of extras: a micro-SD card preloaded with Ubuntu and a USB power lead (more on that later), both were present and correct.
When unpacking the board it is immediately obvious how closely they've followed the Raspberry Pi form factor. There are a few differences, no camera or DSI connectors, the SD card in a different place, a power jack where the Pi has its audio jack, and oddly the network port is the other way up. Otherwise it looks as though it should fit most Pi cases. Of course the only case we had to hand was a PiBow which are cut for specific Pi models, so sadly we couldn't test that assertion.
Familiar Form Factor
Aside from the Ethernet, USB, HDMI, and GPIO ports, most of the top of the board is occupied by a low-profile heatsink that covers the processor and two of the RAM chips. There is a UART socket and infrared receiver at the end opposite the USB and network ports, and a 2.5mm power jack next to the HDMI socket. The micro-USB power is a USB OTG port and not the power port you might be expecting in this form factor.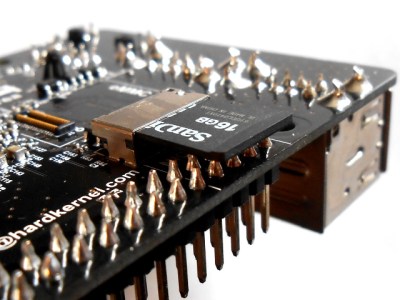 On the underside are the other two RAM chips, the SD card socket, and the eMMC socket. The SD socket is positioned next to the GPIO pins with a higher profile such that the card protrudes over the bottom of the pins. This means that the underside of the board requires a little more room than other boards.
So with the ooh-ing and ah-ing that accompanies the unboxing of a new toy out of the way, we set to work bringing the C2 out of its slumber. Necessary peripherals are the same kit as you'd expect with other single board computers of its class: USB PSU, SD card, keyboard and mouse, network cable, Samsung TV as HDMI monitor. Odroid tell us the C2 consumes less than 0.5A in most cases, but they suggest a 2A power supply if USB peripherals are in use. At this point it's worth stressing that the C2 has a 2.5mm power socket and not the micro USB you might be expecting, so it's important that when you order your C2 you also order a power supply or lead. We went for the USB-to-2.5mm lead rather than the Hardkernel's wall-wart.
Power-On
Everything plugged in, turn it on and we were rewarded with some pretty blue and red LEDs on the C2 telling us  it was booting up. Look at the monitor, and there was something of a snag. "Mode not supported". No problem we think, swap the Samsung telly for an Acer monitor. Same issue. Ouch, we'd prefer not to have to shut it down by yanking the power lead! But Hackaday writers are not fazed by such inconveniences, so it was time for a quick ssh and we were in to shut it down safely. If you've done any work with displays on other similar single board computers you'll probably have some inkling where to go in these situations, find the boot.ini on a FAT partition on the SD card and break out the text editor. There is a wiki page on the Odroid web site that deals with the issue, but while it has info on boot.ini we couldn't help noticing it's a little short on how to find it. Yet again, not something that should worry most seasoned Hackaday readers, but this might be beyond some of the potential market for these types of boards.
On putting the SD card in a PC and opening boot.ini it became obvious that the problem lay with a fixed default resolution of 1080p at 60hz. Yes, our Samsung desktop TV isn't a high-end model. Comment it out, uncomment a more acceptable resolution, and all is well. The Ubuntu Mate desktop, ready to go.
What do you do when faced with a blank desktop on a new computer? We fire up a browser. After a couple of false starts during which it refused to load we had Chromium running, and as you might expect it delivered a very capable and quick browsing platform. Ubuntu Mate also comes with a normal selection of other desktop software, for example LibreOffice runs without a hitch. It's worth pointing out though that Ubuntu's graphical software repository application reported no software available for the platform in most categories.
Network Performance
How then can we get an idea of the C2's power? Its benchmarks are already published, as are those of its competitor, so there is little point in covering the same ground. It's at least a third again as quick, we know that. But how about that network interface though? It's a gigabit Ethernet port whose MAC is built-in to the SoC, so compared to the 100MBit MAC that hangs off a USB hub in the competition it should be speedy.
Sadly we don't have a gleaming test lab in which to test the C2's network, we had to make do with a much more real-world test involving a huge file moved between different shares on an Ubuntu server through a commodity home gigabit switch. We measured 171.12 megabits/s for the C2 and 78.88 megabits/s for the Pi 3, or that the C2 is about 2.17 times faster than the Pi 3. You might expect those figures to be more impressive, after all a gigabit port should on paper be ten times as fast as a 100 megabit port! But that's the real-world nature of the test, maybe our cheap cables aren't as good as they're cracked up to be, or perhaps we've come up against a bottleneck in our server just as anyone doing this on a home network would.
Strengths: Many GPIO Pins and Heat Dissipation
A lot of customers for the C2 will be buying it to get their hands on all those GPIOs, which but for a couple of analogue inputs, a voltage reference, and a few very minor omissions share the familiar pinout of the Raspberry Pi. Thus a key point will be their ease of programming, so it's worth a moment's investigation. Hardkernel provide a page on accessing them through sysfs, and their own port of wiringPi, but Python GPIO access is a little more sketchy. The distro doesn't come with any accessible development tools pre-installed, something that shouldn't detain most Hackaday readers for very long.
In our day of putting the C2 through its paces we checked the temperature of that heatsink pretty regularly. The hottest we saw it was just short of 37 degrees Celcius, when it was in the middle of unpacking a lot of archives from a sudo apt-get dist-upgrade. As a comparison the temperature of the Pi 3's processor without heatsink reached 44 degrees during the network test.
So what do we make of the C2? In a way this can never be a review of only the C2, because of course there is such an elephant in the room in the form of the Raspberry Pi 3. Hardkernel have consciously put themselves in this position with their choice of form factor, launch window, and price, so perhaps it shouldn't be such an unseen elephant.
Hardware-wise then, the C2 is a winner. Except perhaps for wireless networking it's got everything you'd need and more, the extra processor speed and RAM gives it the edge. When the only quirks to pick on are an oddly placed SD card and a 2.5mm power jack rather than micro USB then it's safe to say there's not much wrong with it. If we called the Pi 3 a proper computer that also happens to have GPIO pins when we reviewed it, then the C2 is the same and quite a bit more.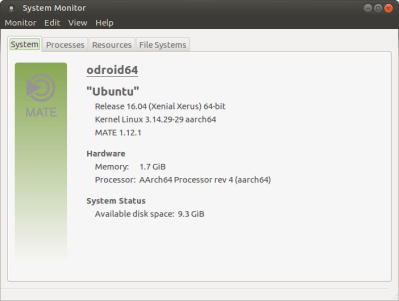 On the software front though, the C2's offering is less tight. From the first power-up the Ubuntu distribution on this machine felt a bit rougher at the edges than the Ubuntu distributions we're used to on our desktop PCs, and more like a work-in-progress than a consumer product. This might not seem a problem from the point of view of a Hackaday regular, after all we're more likely to be at home with distro internals. But when you return to that elephant in the room and realise that the Raspberry Pi has sold in the numbers it has because it has the OS development and community support to create a distro non-expert parents can set up for their children, you start to see where the problem might lie. If they can replicate Raspbian's ease and build a community like the fruity fellows in Cambridge have, then their package will be unbeatable.
Final Word
So should you as a Hackaday reader buy a C2? If you're happy with a bash prompt and you don't mind getting your hands dirty from time to time with its software, then certainly. In bang-for-your-buck terms it's a winner.
But if you're buying it for the education and young people marketplace the Raspberry Pi Foundation have aimed themselves at then you're probably better off buying the slightly slower but better-supported board. We're probably all familiar with falling into the pit of doom that is acting as unofficial first-line support for a non-technical relative's PC, and it's likely you'd be hearing from a teen owner of a C2 with the distro ours came with a lot more often than one with Raspbian on a Pi 3.
Either way, this is the latest in a long line of Odroid boards from Hardkernel, and with every successive generation they have gotten better. They are no longer just a competitor running to catch up on the hardware front, so we look forward to seeing what they produce when they've caught up with their software.